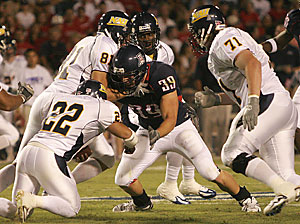 Jake Lacey/Arizona Daily Wildcat

Sophomore linebacker Dane Krogstad had eight tackles, seven solo, and one sack during Arizona's 31-13 win over NAU on Saturday at Arizona Stadium. Krogstad is playing middle linebacker while backs Spencer Larson and Rodney Palmer are sidelined with injuries.




By Charles Renning
Arizona Daily Wildcat
September 14, 2005
Print this


Sophomore steps up while learning position on the fly

Ever since last spring the Arizona football team's linebacker unit has been banged up.

First, it lost potential starter Spencer Larsen in spring practices because of an injured knee. Then, senior Randy Sims and redshirt freshman Ronnie Palmer went down in fall camp, just a few weeks before the season opener at Utah.

With the corps looking more like a M*A*S*H crew, the team needed someone to step in and fill the void.

Through Arizona's first two games, sophomore Dane Krogstad has been the Band-Aid that's held the unit together while players prepare to return.

"Wherever the team needs him is where he's going to be able to contribute," said Arizona linebackers coach Tim Kish. "He does a good job with that."

Krogstad has led the team in tackles against the Utes, recording a career-high 15 in a 27-24 loss, and followed that performance with eight tackles, including a sack and a forced fumble, in the Wildcats' 31-12 win Saturday against NAU.

He leads the team in tackles and already has more tackles for loss (three) than he did all last season.

"Dane works hard. He's what you want," said Arizona head coach Mike Stoops. "He's a very complete player, he understands the game. It's his attitude and work ethic that make him the player he is."

Dane Krogstad
Dane Krogstad - No. 39
Linebacker - sophomore
6-foot-1, 226 pounds
Guerneville, Calif.
2004 (11 games): 48 tackles, 32 solo, 2.5 tackles for loss
2005 (two games): 23 tackles (16 solo), three tackles for loss
Making Krogstad's early numbers even more impressive is the fact that the Guerneville, Calif., native switched positions only two weeks before the start of the season.
Krogstad moved from being outside as the strong-side linebacker into the middle to fill Palmer's spot when he got hurt.
"It's hard," said Stoops about Krogstad's move to the middle. "People are coming at you from all different angles. Usually, if you're on the outside everything is inside you."
Although Krogstad has made the transition look easy, he said a lot of the credit goes to fellow teammates and coaches.
"Ronnie and Randy have been great help," he said. "I couldn't have asked for anything more."
Krogstad said he was struggling early with the transition, but that both Sims and Palmer, along with Kish, has helped him with plays, his drops in certain coverages and filling gaps on run plays.
It also helped to have game experience from last season. Krogstad played in all 11 games in 2004, starting six of them while recording 48 tackles.
Senior safety Darrell Brooks said Krogstad has been successful in '05 because his motor is always running.
"Dane lifts me up," Brooks said. "That's a type of guy you see running 24 hours a day. He's definitely a boost to the defense."
"That's all you can try to do," Krogstad said. "Sometimes, you'll make mistakes, but the only thing you can control is how much effort you give and how hard you play. It's totally 100 percent in your control."
Sims played against NAU, and Larsen was cleared this week to see his first regular-season action since 2002.
Krogstad, meanwhile, could be moved back outside. Either way, the Wildcats just hope he continues to make plays.


Write a Letter to the Editor