Tuesday, September 20, 2005


Football notes: Cats hope to bid errors adieu
Bye week gives squad practice time before trip
The Arizona football team saw its upset of No. 11 Purdue on Saturday literally slip through its fingertips - on more than one occasion.
Facing a Boilermakers squad that won by more than 50 points in the teams' last meeting in 2003, Arizona fought back to get within a touchdown, giving themselves the chance to tie the game in the waning moments. [Read article]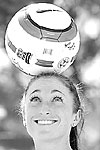 A head for the game: Undaunted David remains relentless
Senior setting up teammates for
successful season
When senior midfielder Nikki David takes the field for the No. 22 Arizona women's soccer team, her teammates can feel a difference.
"She's so pumped to play a game," said fellow senior midfielder Jennifer Klein last week. "You can just feel the energy pick up when she steps onto the field."
Take the Princeton Invitational in Princeton, N.J., two weeks ago. [Read article]



From the booth: Athletics answered call for help
In the wake of one of the worst natural disasters in this country's history, the Arizona athletic department - nearly 1,500 miles away from the affected area in and around New Orleans - stepped up.
And why not? Through their efforts, the department became a mirror of much of the rest of the country - everyone doing their part to help after Hurricane Katrina.
"Several athletes came to either their coach or to Becky Bell (director of the CATS Life Skills Program) to say that they wanted to do something," said Rocky LaRose, Arizona's senior associate athletic director. [Read article]




Men's club soccer: Digging deep for work and play
Players pay expenses out of pocket; find games worth price
As Arizona men's club soccer head coach David Hunter walked away from practice on Sept. 12, an errant ball flew toward the 35-year-old club soccer veteran.
In one smooth motion, Hunter flipped off both sandals and fired the ball back off his tattooed right foot without missing a beat.
The play was a perfect example of what the men's club soccer team is all about - being a little rough around the edges, yet at the same time, being serious, effective and cool on the pitch. [Read article]




showAds('bigbutton')?>






showAds('mediumbutton')?>

showAds('wildlinks')?>