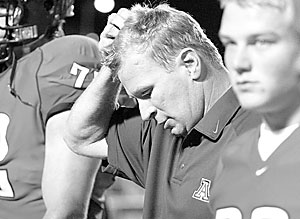 Claire C. Laurence/Arizona Daily Wildcat

Arizona head coach Mike Stoops leaves the field after losing to No. 11 Purdue 31-24 on Saturday at Arizona Stadium. Untimely fumbles and repeated offensive penalties plagued the Wildcats throughout the game, causing a much-needed upset victory to slip away.

By James Kelley
Arizona Daily Wildcat
Tuesday, September 20, 2005
Print this


Bye week gives squad practice time before trip

The Arizona football team saw its upset of No. 11 Purdue on Saturday literally slip through its fingertips - on more than one occasion.

Facing a Boilermakers squad that won by more than 50 points in the teams' last meeting in 2003, Arizona fought back to get within a touchdown, giving themselves the chance to tie the game in the waning moments.

An untimely fumble, missed tackles and frequent offensive penalties, however, led to yet another heartbreaking loss, 31-24.

With a bye week at hand, the Wildcats will need to learn to cut down on these errors before road games against No. 13 California (Oct. 1) and No. 1 Southern California (Oct. 8) - teams that have no difficulty in exploiting their foes' mishaps.

Arizona's most glaring mistake Saturday may have been a muffed punt by junior receiver Syndric Steptoe in the third quarter, after the Wildcats had forced a three-and-out.

"That was a very big error we made - besides the penalties," said Arizona head coach Mike Stoops after the game. "That one fumble was costly. ... We had the fans in the game and we were going to have great field position inside the 40."

Steptoe, who had two catches for 23 yards, was pulled from the punt return team and replaced by junior receiver Ryan Eidson.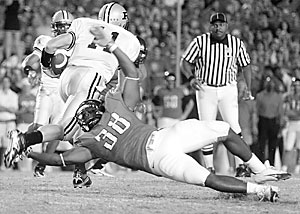 Jacob Konst/Arizona Daily Wildcat
Junior linebacker Akin Akinniyi misses a tackle during Saturday's 31-24 loss against No. 11 Purdue. Miscues like this overwhelmed the Wildcats throughout both halves and may prove costly during their upcoming road trips against two unforgiving teams, No. 13 California and No. 1 USC.
The Wildcats also had issues wrapping up ballcarriers.
On Purdue's first touchdown, senior safety Darrell Brooks missed a head-on tackle on Jerod Void, which resulted in a 55-yard run.
On the Boilermakers' second touchdown drive, a missed tackle led to a 44-yard pass play. Two plays later, Kory Sheets scored on a run from 19 yards out, as four Wildcats failed to wrap him up.
"We just gave up too many big plays defensively - too inconsistent," Stoops said. "That has kind of been our nemesis the last year and three games."
The Wildcats seemed to waste most of their timeouts on plays where they either couldn't get the play called in time or just weren't ready to snap the football.
Arizona ran out of timeouts with 13:38 left in the fourth quarter, a major factor on the game's final drive, when the Wildcats scrambled to get downfield to tie the game.
Arizona also gave Purdue 75 yards on 12 penalties, the most during Stoops' tenure as head coach. The Wildcats' record for penalties is 19 against New Mexico State in 1951.
"We were a little sloppy at times," said Arizona offensive coordinator Mike Canales. "We had too many offensive penalties. There were some movement calls where the defense drew our guys off."
The penalties led to many third-and-long situations for Arizona. Despite having a great day passing the ball, with redshirt sophomore quarterback Richard Kovalcheck throwing for a career-high 287 yards, the Wildcats were just 3-for-14 on third-down conversions.
"We're going to work at it," said senior running back Mike Bell. "We just got to keep pushing and pushing and find a way to win. That's what we are going to do."
Boilermakers head coach Joe Tiller said he was even more impressed with the Wildcats than when he studied the game film of their November upset over ASU, which ended in a Purdue loss in the Sun Bowl on New Year's Eve.
"This was a big win for us against a very good football team," he said. "Arizona is a much-improved team, certainly from three years ago, but also since their game against Arizona State last year.
"When we were watching film of ASU for the Sun Bowl, I saw UA, and this is a much better team (this year)."


Write a Letter to the Editor