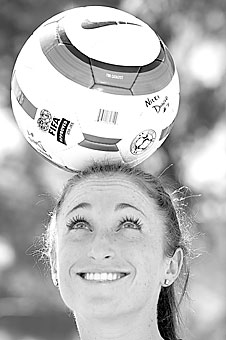 Jacob Konst/Arizona Daily Wildcat

Midfielder Nikki David has been a bundle of energy for the Arizona women's soccer team. Seven games into the season, the senior has matched her career high in goals and set a new career best in assists with four.

By Amanda Branam
Arizona Daily Wildcat
Tuesday, September 20, 2005
Print this


Senior setting up teammates for

successful season

When senior midfielder Nikki David takes the field for the No. 22 Arizona women's soccer team, her teammates can feel a difference.

"She's so pumped to play a game," said fellow senior midfielder Jennifer Klein last week. "You can just feel the energy pick up when she steps onto the field."

Take the Princeton Invitational in Princeton, N.J., two weeks ago.

David had not started a game this season until the Wildcats faced host Princeton on Sept. 8. In the two games leading up to the match, Arizona scored one goal in a loss to Pepperdine and managed a 0-0, double-overtime tie at Cal Poly San Luis Obispo.

The Wildcats knew they needed to score some goals on the road, and they were facing a Final Four participant from the season before.

Undaunted, David scored the first goal of the game and passed off the game-winning assist for a 2-1 win over the Tigers. In her second start of the season against Penn, she notched the game's first two assists in a 4-0 victory.

"She's a tough matchup for any opponent," said Arizona head coach Dan Tobias. "She can take you off the dribble, she can run at you with pace, she can run in behind you to get a ball that's been played into space, she can play in tight spaces. ... She's really made herself into an impact-level player on our team."

Nikki David – No. 7
Senior midfielder
5-foot-6
2005 statistics (through seven games): one goal, four assists (career best)

While playing club soccer for the FRAM Splash team while growing up in Manhattan Beach, Calif., David said her coach saw then what teammate Klein and mentor Tobias see now.

"(He) would tell me, whether I started or didn't start, I always brought a great energy to the field," David said.

When David began high school, she was forced to focus her energy on one sport in each of the fall (cross country), winter (soccer) and spring (softball) seasons.

Growing up in Southern California, where so many different sports and activities were available, David said she played a little bit of everything.

"It was sort of a process of elimination when I got to high school," she said. "I was always good at running so I always stuck to those sports."

Regardless of her focus, David produced. She lettered three years in soccer and four years in track and was named her soccer team's most outstanding player her senior year, scoring 10 goals and making 12 assists that season. She qualified to compete in the CIF Championships in the high jump and the long jump in 2000 and 2001.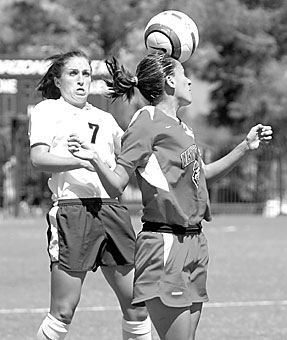 Claire C. Laurence/Arizona Daily Wildcat
Senior midfielder Nikki David competes for a ball against a New Mexico player during Saturday's 1-1 tie at Murphy Stadium. David and her fellow seniors have been working hard since they arrived on campus in 2001 to turn the No. 22 Arizona women's soccer program into a legacy.
When it came time for David to choose a college - she had decided to ditch her other sports for soccer - the choice was between Southern California and Arizona.
The Women of Troy had more of an established program with past success. David went on her recruiting visit to Arizona the week after going to USC, and the next week she needed to make her choice.
She said she chose Arizona because of the women on the team and because the atmosphere of the athletic department impressed her. But the challenge on the field was a huge draw.
"All of us came to the U of A to change the program around," said David of the team's seniors. "For us to come so far ... we've accomplished what we came here for."
After all the team accomplished last year in getting the program's first winning record, first Pacific 10 Conference title and first trip to the NCAA College Cup, David and her fellow seniors have already made a lasting impact on this program. They hope to extend their legacies even further in 2005.
Once her final collegiate season is over, David said she will put all her focus on getting her communication degree, which she plans to finish up in December 2006.
From there, she wants to pour her energy into something completely different: culinary school.
Of course, it won't be the only thing she does. David has rarely settled on just one thing.
"I love to cook, snowboarding, surfing, hanging out at the beach, hanging out with friends," she said. "And a little bit of partying, too."


Write a Letter to the Editor