Wednesday, September 21, 2005


Cross country culture: Running connects Kenyans
Hailing from halfway across the globe, four athletes came to Arizona to do what they do best: run.
On squads of mostly Americans, this foursome from Kenya has raced to the front of the Arizona cross country teams, led by championship-caliber junior Robert Cheseret.
Senior Jonah Maiyo joins Cheseret on the men's squad, as senior Fanice Chepkorir and Cheseret's sister, freshman Irine Lagat, run on the women's team. [Read article]



A slice of bacon: Mike, Mike and Mike in the morning
It might have been just three games out of 11, but the first few weeks of the Arizona football team's 2005 season were the most important when it came to a few questions.
Can head coach Mike Stoops return the program to respectability? Can senior running back Mike Bell end his career with a boom, not a bust? Can "Wildcats" and "bowl game" be in the same headline?
The first three games addressed all these questions, and the Wildcats went 1-2 with some bright spots, despite close losses to Utah and Purdue. [Read article]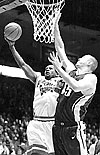 Pastner's notebook: Team chemistry brewing in scrimmages
In this edition of Pastner's Notebook, men's basketball assistant coach Josh Pastner talks about the team's offseason scrimmages, Hassan Adams as a captain and his own sleeping habits.
Wildcat: From watching the scrimmage on Saturday, it's striking how competitive every pickup game is.
Pastner: I think with us practicing during the week allows the pickup games to be that much more competitive, because each individual knows what they need to do and the intensity level that they have to stay at to be able to get a chance to get minutes this year. [Read article]




Junior tight end making big plays in big moments
Arizona football head coach Mike Stoops has said junior tight end Brad Wood has a knack for making tough plays.
The Tucson product showed it against No. 11 Purdue on Saturday.
Midway through the fourth quarter of the Wildcats' 31-24 loss, the ball was deflected off a Wildcat receiver's hand.
Running the other direction, Wood stopped, dove and caught the ball on his back, salvaging an Arizona third-down conversion that could have otherwise forced the team to settle for three points. [Read article]




showAds('bigbutton')?>






showAds('mediumbutton')?>

showAds('wildlinks')?>