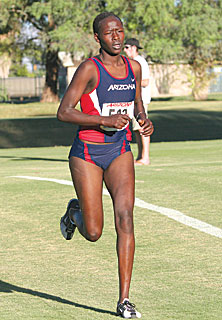 Josh Fields/Arizona Daily Wildcat

Senior cross country runner Irine Lagat finished within two minutes of the leader in the Dave Murray Invitational on Friday.

By Michael Schwartz
Arizona Daily Wildcat
Wednesday, September 21, 2005
Print this


Hailing from halfway across the globe, four athletes came to Arizona to do what they do best: run.

On squads of mostly Americans, this foursome from Kenya has raced to the front of the Arizona cross country teams, led by championship-caliber junior Robert Cheseret.

Senior Jonah Maiyo joins Cheseret on the men's squad, as senior Fanice Chepkorir and Cheseret's sister, freshman Irine Lagat, run on the women's team.

"They're good kids, and they're fast," said Arizona cross country head coach James Li. "They work very hard, and obviously, they run very well. Nowadays, most schools like to have Kenyans if they could."

Not only do these runners share a home country, but Cheseret, Chepkorir and Lagat all come from Kapsabet, which has a population of just under 24,000, about two-thirds that of the student body at the UA.

"One thing I do know, and I think it's making a huge difference with the Kenyan athletes that I've coached over the years, is this tremendous drive that they have," Li said. "For whatever the factor that's motivating them, they're very driven, working very, very hard."

Kenyan athletes have found success far beyond Arizona's four corners. Before last year, 13 of the previous 14 Boston Marathon winners called Kenya home.

In the 2004 Summer Olympics, Kenyans earned all three places in the 3,000-meter steeplechase, an event involving distance running, and have earned gold in that event every year they entered since 1964. They also tallied a silver medal in the women's 5,000 and bronze in the men's 5,000.

"I'm proud to be a Kenyan long-distance runner," Maiyo said.

Cheseret said he thinks dedication, and a national pride about running, makes the Wildcats' Kenyan runners especially strong.

"(We) mentally think that this is our sport," he said. "That's like the main sport back home (just like) America has baseball and football."

Cheseret's devotion has translated to results on the course throughout a mind-boggling first two seasons.

Last year, the Pacific 10 Conference voted him cross country athlete of the year after he won the conference championship in the 8,000. He also finished second at the NCAA West Regional Championships and ninth at the NCAA Championships.

In 2003, Cheseret broke Arizona's freshman 5,000 record with a time of 13:45.88. He also finished second in the 5,000 at the Pac-10 Championship and third at the NCAA Outdoor Championships.

Cheseret won Friday's Dave Murray Invitational, while Maiyo finished 10th. In the season-opening San Francisco Invitational on Sept. 3, Chepkorir finished seventh on the women's side, second on the team, and Lagat ended up 17th, third among teammates.

Making the connection:

Kenyan runners with Arizona
Fanice Chepkorir
women's cross country
5-foot-4 senior
Kapsabet, Kenya
Robert Cheseret
men's cross country
6-foot junior
Kapsabet, Kenya

Irine Lagat
women's cross country
5-foot-5 freshman
Kapsabet, Kenya

Jonah Maiyo
men's cross country
5-foot-9 senior
Burnt Forest, Kenya

While Chepkorir said she plans to run after graduating this year, she originally came to college in America for a degree that she couldn't get for free in Kenya, where they don't offer athletic scholarships.
"When my coach brought me over, he said I could run and study," she said. "I thought it was a good idea."
When she first came to college, Chepkorir said the language barrier was a major issue, as she could barely understand what her professors were saying in class. Now, she said, the problem is much improved.
Li said he has not experienced many communication problems with the four athletes because English serves as a primary language in Kenya. Still, they have been slow to pick up slang and what he called "cultural things."
"We'll talk about something that's so common knowledge to this country, to this culture, and they'll have no clue, which is totally understandable," Li said. "People from outside the U.S. would not have much interest in stuff like that and would not have much knowledge."
Common knowledge for these Kenyans encompasses anything about distance running, and no cultural differences can stop the four athletes in a race.
Running is to Kenyans as baseball and apple pie are to Americans - it has brought countless education opportunities and national pride through college scholarships and championship medals from the collegiate level to the Olympic Games.
"There's some environmental conditions and maybe even cultural conditions that made it conducive for them to be good runners," Li said. "They come from high lands, high altitudes. The lifestyle is such that they have to run or walk a lot. It's been that way for generations."
With the men's team's victories in its first two meets, things look promising for Cheseret and company.
With his Kenyan roots, work ethic and dominating first two years in college, Cheseret's stated goals do not seem so farfetched.
"I want to win the Pac-10," Cheseret said. "Another one of my goals is I want to win nationals and win a team title, too."


Write a Letter to the Editor