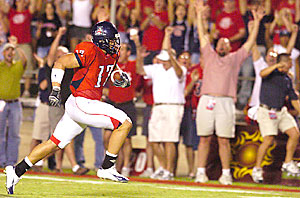 Chris Coduto/Arizona Daily Wildcat

Arizona's Brad Wood races for the end zone during the first quarter of Arizona's 31-24 loss to No. 11 Purdue. Three games into the season, Wood has already collected four touchdowns and 180 yards receiving.

By Charles Renning
Arizona Daily Wildcat
Wednesday, September 21, 2005
Print this


Arizona football head coach Mike Stoops has said junior tight end Brad Wood has a knack for making tough plays.

The Tucson product showed it against No. 11 Purdue on Saturday.

Midway through the fourth quarter of the Wildcats' 31-24 loss, the ball was deflected off a Wildcat receiver's hand.

Running the other direction, Wood stopped, dove and caught the ball on his back, salvaging an Arizona third-down conversion that could have otherwise forced the team to settle for three points.

Instead it kept the drive alive. Two plays later, the Wildcats were in the end zone.

"I was just running my route and doing my job, and the ball just fell right into my hands," said Wood, who prepped at Sabino High School. "Right when I turned around, there was the ball. I had to make a play and help my teammates."

Brad Wood - No. 17
Tight end - junior
6-foot-3, 240 pounds
Tucson (Sabino High School)
Stats (team ranks):
12 catches (third),
180 yards (third),
four touchdowns (first)

Although many fans might remember just that play from Wood's performance this season, and only after seeing it on the evening TV highlights, the junior has been one of the Wildcats' most consistent and productive pass catchers.
He has scored a touchdown in all three games this season and had two against the Boilermakers.
"I knew Brad Wood could play. We try to get him the ball the best we can," said Arizona offensive coordinator Mike Canales. "He's quick and he's fast, and he can use his speed as a weapon. When he does get the ball, he tends to catch it and make plays."
Through three games, Wood has 12 catches for 180 yards and a team-leading four touchdowns. He's already closing in on departed tight end Steve Fleming's numbers from a year ago (23 catches, 332 yards, two touchdowns).
"Brad gets good matchups on linebackers. He's very athletic for a tight end," Stoops said. "We have to continue to move him around and make him one of our options. We keep finding new ways to get him the football."
Arizona tight ends coach Josh Heupel said that because Wood has receiverlike qualities, it makes him effective against both linebackers and safeties.
"Sometimes he's a little undersized, but Brad has great feet and plays with really good technique, so he probably plays a little heavier than he actually is," Heupel said.
At 6-foot-3 and 240 pounds, Wood is not your typical tight end.
"I'm kind of stuck in between (good and bad size), but as long as I can find a spot on the field and a spot to make plays, that's what I'll try to do," Wood said.
Coaches said Wood's early-season success had a lot to do with his work ethic on and off the field and that his time in the weight room is showing.
"I've just been in the right spots and coaches have made the right calls," Wood said. "I'm just the one lucky enough to be open."


Write a Letter to the Editor