Friday, September 23, 2005


Frosh calls UA 'dream come true'
It's a question eager basketball players at the Student Recreation Center would love to hear: "Are you ready to walk on?"
Unfortunately for them, David Bagga, a freshman walk-on for the Arizona men's basketball team, has already heard it.
The Foothill Ranch, Calif., native said the phrase, uttered by Arizona head coach Lute Olson, caught Bagga off guard as he vacated his plane at Tucson International Airport in June. [Read article]




Wildcats visit No. 3 Portland tonight
If there was a game that could measure how far the Arizona soccer program has come in recent years, tonight's game might be it.
The No. 22 Wildcats (4-1-2) travel to Oregon to take on No. 3 Portland (8-0), a program almost as synonymous with women's college soccer as North Carolina. Kickoff is at 7 p.m.
Since 1992, the Pilots have made seven trips to the Final Four, won four West Coast Conference titles and won one national title, in 2002. [Read article]




Cats open Pac-10 season against Beavers, Ducks
Volleyball hoping to trample the Pac-10 opposition
After spending two consecutive weekends on the road, the No. 15 Arizona volleyball team returns to McKale Center to kick off the Pacific 10 Conference season today.
The Wildcats (8-1) take on Oregon State (5-2) at 7 p.m. and plays Oregon (10-1) tomorrow at 7 p.m.
Arizona head coach Dave Rubio said that while both Oregon schools have remained in the bottom half of the Pac-10 in recent years, the competitive nature of the conference makes it hard to typecast any team. [Read article]



Staff picks
Who will step up to help Cassandra Kirkland lead the women's golf team this season?
Charles Renning: Rachel Gavin, junior
"T-Loc" Rachel Gavin is ready for a breakout year for the Wildcats. Besides winning the 2003 Arizona State Match Play Championships, she won a 64-person match-play tournament as the only female on the field as a junior at Sabino High School. Even more impressively, she beat her dad to get to the finals. Anyone that ruthless has to be tough. Sorry, Pops. [Read article]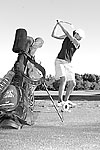 Women's golf swings in to Nashville
The Arizona women's golf team has a senior-freshman dynamic going on in the early season.
At this weekend's Mason Rudolph Championship in Nashville, Tenn., the Wildcats comprises three seniors and two freshmen, will compete in a tournament that marks the beginning of the end for the team's veterans and the start of an era for its newcomers.
Though most of the attention from Arizona's 14 opponents will focus on seniors Cassandra Kirkland, Lani Elston-Marshall and Whitney Welch, Arizona head coach Greg Allen said the tournament will be used to see how freshmen Lauren Espinosa and Sommer Scholl perform. [Read article]



Men's tennis begins tourney No. 2 in Denver
It doesn't seem to be the right time of year for tennis, with thoughts of spring nowhere near and weather nearing the triple digits.
But for the Arizona tennis teams, the fall season is an important time to iron out the kinks.
The men's tennis team competes this weekend in the Denver Fall Championships in Denver, one of the seven tournaments that the Arizona men will compete in this semester. [Read article]




showAds('bigbutton')?>






showAds('mediumbutton')?>

showAds('wildlinks')?>