Wednesday, September 28, 2005


Football notes: Practice, upcoming game help ease pain of Polk's loss
Practice was an escape yesterday for athletes on the Arizona football team, who a day earlier lost a peer and close friend in women's basketball star Shawntinice Polk.
"Any time you can go out and do something you love to do for a couple hours, you get away," said Arizona head coach Mike Stoops. "Then you come back, and it's everywhere in the media and on campus, and it's something they have to deal with." [Read article]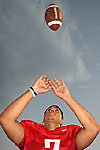 Practice now, Play later: Redshirt athletes prepare for future
They attend practice every day, endure every drill and participate in every strategy session, although they will not score any touchdowns, drain any jump shots or spike any volleyballs.
As redshirt athletes, they represent the future of Arizona athletics.
Players in all sports can save a year of eligibility to adjust to the college game, recover from a major injury or get acclimated to the academic rigors of the university by being redshirted, as teams use the redshirt option in different ways. [Read article]



A Slice of Bacon: Got tickets? I hate you
This morning, I drove to Los Betos and got a really greasy carne asada burrito with extra green and red sauce as I chugged my 64-ounce Coca-Cola.
I had lunch from McDonald's - a Big Mac super-sized with a syrupy Dr Pepper, all to the unhappiness of my soon-to-be-expanded tummy.
Dinner went on the CatCard, as I called Papa John's and ordered three large pizzas, two orders of breadsticks and another carb-infested soda to drown away my sorrows. [Read article]




Elston-Marshall balances marriage with golf, school
Being a student at a public university isn't the easiest thing in the world. Add mandatory workouts, practice sessions and a dozen tournaments each season, and a student's workload can be almost overwhelming.
Meet redshirt senior Lani Elston-Marshall of the Arizona women's golf team, who balances all the trials and tribulations of being a student-athlete with another title: married.
"We were set up on a blind golf date by (teammate) Rachel Gavin," Lani said of her first meeting with Andy Marshall in June 2004. "She had been trying to set us up for months and months, but ... I'm very selective, so I was leery about jumping into something." [Read article]




Pastner's notebook: Men's hoops mourns Polk's death
In this edition of Pastner's Notebook, Arizona men's basketball assistant coach Josh Pastner talks about the death of Shawntinice Polk, Chris Rodgers' injury and McKale Madness.
Wildcat: Is there any way you can put Monday's tragic loss of "Polkey" into words?
Pastner: I don't think you can put a horrible event like (Monday) into words because it was just an extremely tough day for everyone involved. Polkey was such a beautiful, beautiful young lady. I'm talking attitudewise, personalitywise, how she treated other human beings. It's a sad loss for this earth but a big gain for heaven, and we can all know she's in a better place right now. I think it's going to take time for everybody involved to grieve and mourn her loss. [Read article]




showAds('bigbutton')?>






showAds('mediumbutton')?>

showAds('wildlinks')?>