Wednesday, September 28, 2005


Zona Zoo not complete package yet
The Zona Zoo pass has done a great deal for students since it was developed in 2002, but it is still one step away from becoming a truly great student athletic program.
No one would argue that the pass isn't a good value, when for $40 you get unlimited access to every home game of every sport on campus for the full year, except men's basketball. You also get a cool T-shirt and access to special events, like pre-game tailgate parties on the UA Mall before home football games. [Read article]



University Boulevard booming
If a landlord has an office space vacant for more than a calendar year, he begins to panic. If that office space is a 9,100-square-foot anchor for a brand-new $18 million building, it becomes a serious problem. But for one landlord around the UA, the wait is worth it.
Meet the Marshall Foundation, University Boulevard's super landlord. Created in 1930 off the generosity of professor Louise Foucar Marshall, it now owns a significant portion of the land by the street. [Read article]



Sip on this
Coffee is a bit like a designer drug: It satisfies you at first, but it always leaves you wanting more.
I stopped paying $3 for a gallon of gas, yet I gladly pay $4 for my tub of Yuban. But I recently pondered the implications of my purchase after watching a Coldplay concert in which lead singer Chris Martin preened around onstage in support of the Make Trade Fair trend. Each day, as I freshen up my brew, I wonder if I am I in fact subsidizing social inequity. [Read article]



Editorial: Bush again irresponsible after storms
Cut spending or raise taxes to increase relief money, but don't deepen deficit
Now that the emotional devastation of hurricanes Katrina and Rita is finally beginning to subside, the costs of the reconstruction process are starting to set in.
Estimates vary, but a rough figure of $200 billion is not a stretch. That puts the costs of the reconstruction about on par with the costs of U.S. involvement in Iraq. [Read article]



Mailbag
To 'Polkey,' with love
Shawntinice Polk ("Polkey" to her countless friends and adoring basketball fans) is suddenly gone at age 22, the victim of an errant blood clot that found its way to her generous heart and lungs. Her passing leaves a hole in my own heart and in the heart of her university community.
In the world in which I work as a university president, nothing is more deeply gratifying than giving a young person an opportunity to rise above the seemingly insurmountable obstacles of childhood to a position of high achievement. Polkey is my shining star. [Read article]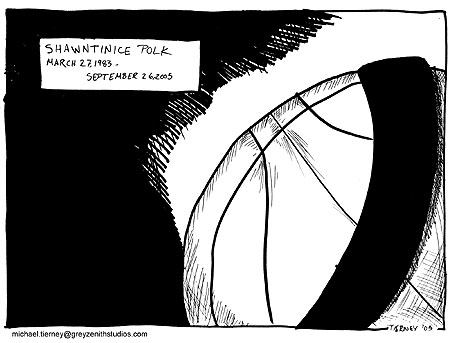 showAds('bigbutton')?>






showAds('mediumbutton')?>

showAds('wildlinks')?>