Thursday, September 29, 2005


Remembering 'Polkey': Thousands pay last respects
About 2,100 people shared laughter and tears at a memorial service last night to remember and honor women's basketball center Shawntinice Polk, who died Monday morning from cardiac arrest after a blood clot traveled from one of her legs to her lungs.
Polk's teammates, friends, family and fans came together for a memorial service in McKale Center, the place where she collapsed and the place coach Joan Bonvicini said was Polk's second home. [Read article]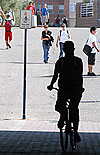 Bike rules change, actions have not
Rules for bicyclists traveling through the Olive Pedestrian Underpass tunnel have changed, allowing bicyclists to legally ride through the tunnel between certain hours, but some pedestrians said cyclists are still zipping through tunnels and creating a safety hazard.
The tunnels at North Highland Avenue and Warren Avenue have clearly marked bike lanes separating bicyclists from pedestrians. The Olive Pedestrian Underpass, however, has signs instructing bicyclists to walk their bikes between the hours of 7 a.m. and 5 p.m. Monday through Friday. [Read article]




Transients on 4th Ave. concern students
Students living near North Fourth Avenue have complained about homeless people wandering in front of and onto their property, but police said there is not much that can be done to prevent such intrusions.
Michael Rodarte, a pre-pharmacy sophomore, said he lives on East Ninth Street at the corner of North Fourth Avenue, and though the presence of transients doesn't usually concern him, he is beginning to feel unsafe after waking up to see a man sitting in the backyard outside his bedroom window. [Read article]



Campus Briefs: PSU gives chance to date by minute
For the first time at the UA, students can interact and meet by speed dating, a concept organizers said they borrowed from the Will Smith blockbuster movie "Hitch."
During the debut tonight, 40 students who have already signed up will chat for several minutes with another individual before moving on to meet with the next person, similar to the setup in "Hitch," said Jenny French, a Park Student Union graduate assistant for operations and activities. [Read article]



Tuition, med school topics for regents
The prospects of expanding the UA's medical school to Phoenix and raising tuition dollars will be on the minds of Arizona Board of Regents members who are meeting today and tomorrow to discuss such issues in Flagstaff.
The 10 voting regents will discuss general considerations and the effects about a possible tuition increase, but they will not vote on the matter because it's still early in the school year and it would be in violation of tuition setting processes, said Student Regent Ben Graff. [Read article]



Quick Hits
Homecoming nominations deadline tomorrow
Homecoming nominations for king and queen are being accepted until noon tomorrow. Those interested can print out a nominations form at www.uagrad.org/Homecoming along with a $25 check addressed to the Mortar Board National Senior Honorary. In addition to the form and fee, candidates must also be able to attend Homecoming activities that are listed on the Web site. [Read article]



FastFacts
Things you've always never wanted to know
The largest liquid body on Earth is the outer core. The inner core is solid iron-nickel and measures around 758 miles across. This is surrounded by the 1,403-mile thick liquid outer core. The outer core has a total volume of about 1.7 x 1020 meters cubed. It represents around 29.3 percent of the Earth's mass and 16 percent of the Earth's volume, or 100 times the volume of water in Earth's oceans. [Read article]




showAds('bigbutton')?>






showAds('mediumbutton')?>

showAds('wildlinks')?>