Friday, September 30, 2005


A witch hunt among men of the cloth
Gays, liberals and proponents of equal rights are already railing against the imminent Vatican instructions banning gay men from entering seminaries. However, this ban has been well-received by certain conservative priests, some of whom claim that the restriction on gay seminarians is "for their own good."
Just as church authorities once banned epileptics from the priesthood, they assert that years of studying in the presence of only other men would be too much of a strain on the celibacy of a homosexual man. [Read article]



Build a house, kill an owl
In the last eight years, the endangered status of the cactus ferruginous pygmy owl has been a constant source of debate between the government, environmental groups and development interests. The pygmy owl was listed as an endangered species in 1997, and since then, a fight has raged on over the legality of this listing under the Endangered Species Act of 1973.
The fight came to a boiling point as the U.S. Fish and Wildlife Service, in charge of administering the ESA, recently announced it would support the arguments of the National Association of Home Builders and "delist" the pygmy owl, upsetting local conservationists. [Read article]



Pass/fail: See if these ideas make the grade
Fun, fun, fun till daddy takes the moped away
Sure, it's inevitable on any college campus that there will be clashes between pedestrians and bicyclists, but some geniuses have apparently found it necessary to add an entirely different dimension to our already crowded walkways - motors. Why, of course! On a crowded campus of 36,000, why not throw in the added difficulty of having to dodge motorized scooters and their oily plumes of blue smoke? And while the fact that the UA campus is only a square mile makes the need for these vehicles dubious at best, the pilots of these motorized maladies have exposed us all to a little more than noise and pollution (one girl who was sighted apparently thought little of wearing a miniskirt while astride her moped). For this, these annoying vehicles get a Fail. [Read article]



Mailbag
Constitutional reality not so clear-cut
I had mixed emotions after reading Kara Karlson's column ("Appoint a chief justice, not an enigma"). First, I thought it might be a breath of fresh air. Boy did I ever appreciate how Ms. Karlson cleared up a lot of issues that were nagging me during the past three years of law school, and so succinctly! It seemed so clear!
For instance, there was this lucid bit: "(Supreme Court Justice Clarence) Thomas analyzes the actual language of the Constitution, rather than change it to fit whatever agenda he may be pushing. His opinions are based on the actual definitions of those words, and the spirit of the Constitution." [Read article]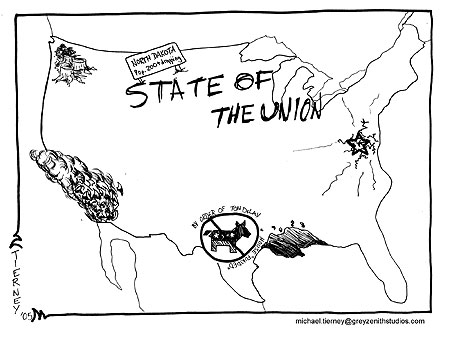 showAds('bigbutton')?>






showAds('mediumbutton')?>

showAds('wildlinks')?>