Friday, October 7, 2005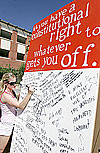 Message boards inspire debate
Provoking presentation pushes buttons on Mall
Students voiced their opinions with a marker and a message board yesterday about how pornography can push the buttons of pleasure or go overboard on the boundaries of purity.
Students from Campus Crusade for Christ set up a table and message board workshop on the UA Mall to promote "Porn Nation - The Naked Truth", a multimedia presentation about the effects of pornography. [Read article]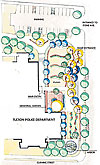 TPD, UA create police memorial
A graduate student will see her class work come to life next year after the Tucson Police Department chose her design for their fallen officers' memorial plaza.
Jennifer Jones, a landscape architecture graduate student, designed the "Patterns of Protection" TPD Memorial Plaza, 270 N. Stone Ave. Her design was chosen out of her 16 classmates' designs for the same project.
The plaza, which will be completed in May, will honor seven TPD officers who have been killed in the line of duty, along with other memorials private citizens and businesses can purchase, said Chris Miller, TPD officer and executive board member of the Tucson Police Officers Association. [Read article]



UA Muslims: Ramadan not understood
Ramadan is a time for fasting, reflection and family, but some Muslim students said they feel the monthlong fast is misunderstood because people and media outside the religion sometimes stereotype Islam as a whole.
Khaqan Sikander, a pre-business sophomore and vice president of the Muslim Student Association, said Ramadan is unknown to many people.
"I just think they don't know as much as they could know," Sikander said. [Read article]



Quick Hits
UA markets now accepting credit cards
Credit card transactions are being accepted at the Park Student Union food court, Highland Market, the U-Mart and Redington Restaurant in the Student Union Memorial Center.
The decision was made after the Arizona Student Unions received customer requests for the service, and also because these locations carry a large selection of non-food items that cannot be purchased with meal plan monies on the CatCard, said Dan Adams, director of Arizona Student Unions. [Read article]



Campus briefs: Antidepressants-pregnancy link sought in psych study
The department of psychiatry's Women's Mental Health program is seeking pregnant volunteers to study how antidepressants affect a developing fetus.
There is strong evidence suggesting that the use of antidepressants in late pregnancy may be associated with certain syndromes in babies, according to a press release.
Ten to 20 percent of women who are pregnant experience depression. The study aims to help these women choose the safest and most effective options to treat their depression, according to a press release. [Read article]




Fast Facts
Things you've always never wanted to know
A can of Spam is opened every four seconds.
On average, Americans eat 18 acres of pizza every day.
Fingernails grow nearly four times faster than toenails.
The average person has more than 1,460 dreams a year.
More Monopoly money is printed in a year than real money throughout the world.
On average, right-handed people live nine years longer than left-handed people. [Read article]




showAds('bigbutton')?>







showAds('mediumbutton')?>

showAds('wildlinks')?>