Thursday, October 13, 2005


Pushing the pace
Soccer attack doesn't slacken when freshman subs give starters a breather
When Arizona soccer head coach Dan Tobias recruited freshmen forwards London King and Gianna DeSaverio last year, he didn't have to flaunt his team's Pacific 10 Conference title in 2005 or his National Coach of the Year award.
He simply had to say something like, 'OK, ladies, meet the Arizona soccer team,' and the squad pretty much sold itself. [Read article]




Football notes: Cats' Pac-10 home opener a family affair
The Arizona football team returns home for the first time in nearly a month Saturday for the 2005 Family Weekend game against Stanford at 4 p.m.
The Wildcats last played in Tucson Sept. 17 in a 34-27 loss to then-No. 11 Purdue, a game that marked the first sell out of Arizona Stadium since 1999.
"Playing at home, it will be a great atmosphere," said Arizona head coach Mike Stoops. "I like what our kids are doing. They've practiced well, and we've had a couple great days of preparation." [Read article]



Women's golf team finishes 5th in Seattle
The No. 23 Arizona women's golf team ended the Edean Ihlanfeldt Invitational in Seattle yesterday in fifth place.
The Wildcats improved 12 strokes from their second-round 314, but couldn't rise a spot in the team standings at the Sahalee Country Club.
Pepperdine improved 17 strokes to score a 4-over-par 290, edging ASU to win its second straight tournament.
Freshman Amanda Wilson carded a 4-over 76 to finish highest among Wildcat individuals. She tied for 15th place with Sun Devils Alissa Kuczka and Tiffany Tavee. [Read article]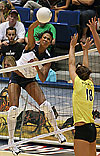 Volleyball aims to make leap against No. 3 Stanford
No. 12 Cats gun for rare win over national champs
The No. 12 Arizona volleyball team hopes to rewrite the recent past as it takes on the No. 3 reigning national champion Stanford tonight at 7 in McKale Center.
The Cardinal (16-2, 5-1 Pacific 10 Conference) has defeated the Wildcats (12-2, 4-1) in five consecutive matches, with Arizona¡¯s last win coming Oct. 11, 2002, in five games at Midnight Madness in McKale. [Read article]



Staff picks
Stanford vs. Arizona
Ryan Casey: Arizona 34, Stanford 20. If you look at the numbers (Stanford sits at 2-2, the Cats 1-4) and the trends in the series (the Cardinal have won three of four matchups), all signs point to a Stanford victory at Arizona Stadium tomorrow. But look at this game logically, and you will find that the Cats take this one. The D will step up, and RK will have a career day with four touchdown passes. What's more, Mike Bell will enjoy his most successful game to date. [Read article]



On the air
A sampling of what's on today
TALK: 'NCAA Football'
Hosts: Ken Bever, Robyn McCarthy and Victoria Yarnish < KAMP 1570 AM/kamp.arizona.edu - 6 p.m.
MLB: Houston Astros at St. Louis Cardinals
NLDS Game 2 - 5:20 p.m. < FOX
FOOTBALL: Clemson at North Carolina State
7:30 p.m. - ESPN [Read article]




showAds('bigbutton')?>







showAds('mediumbutton')?>

showAds('wildlinks')?>