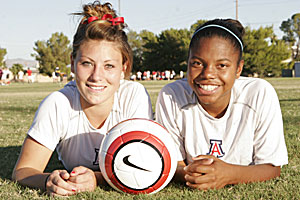 Josh Fields/Arizona Daily Wildcat

Freshman forwards Gianna DeSaverio, left, and London King said they chose to play for the Arizona soccer team because the team was nicer and funnier than any of the others they visited.

By Amanda Branam
Arizona Daily Wildcat
Thursday, October 13, 2005
Print this


Soccer attack doesn't slacken when freshman subs give starters a breather

When Arizona soccer head coach Dan Tobias recruited freshmen forwards London King and Gianna DeSaverio last year, he didn't have to flaunt his team's Pacific 10 Conference title in 2005 or his National Coach of the Year award.

He simply had to say something like, 'OK, ladies, meet the Arizona soccer team,' and the squad pretty much sold itself.

Both King and DeSaverio said the top reason they came to Tucson over schools like UCLA, Southern California, Dartmouth and Miami was because the Arizona players were nicer and funnier than any of the other teams they had gone to visit.

"A lot of the schools I went to ... I was, like, by myself," said King, who played at Santa Monica High School in California. "I would definitely say the girls pulled me to this school."

Both athletes are already making an impact in games for the Wildcats this season, and with two seniors starting up front, the future of Arizona's goal scoring is in the hands of a pair of first-year players.

Or, more appropriately, at their feet.

"They just bring tremendous pace off the bench," Tobias said. "When you bring that against a tired back four, those are excellent people to have coming off your bench."

The freshmen tandem was instrumental in getting the Wildcats off to a 2-0 start in Pac-10 play over the weekend.

DeSaverio scored a goal and assisted on another to help the Wildcats to a 3-0 win against Oregon State. She has two goals and two assists so far in 2005.

King has identical season numbers, getting her second assist of the year by passing a ball at about midfield to redshirt senior forward Kelly Nelson, who took it in and scored.

King's and DeSaverio's goal totals put them in a tie with sophomore midfielder-defender Nicole Scheid for second on the team.

Yet coming off the bench is not something either athlete is accustomed to.

First-year firepower
Gianna DeSaverio
No. 20 • Forward
5-foot-4 • Littleton, Colo.
London King
No. 9 • Forward
5-foot-5 • Santa Monica, Calif.
DeSaverio was the Gatorade Girls Soccer Player of the Year for Chatfield High School in Littleton, Colo., while King played for a SoCal United club team that won nationals in 2004.
However, both understand their roles this season and that their starting time will come. Both have seen action in all 12 games this season, with speed that has caused problems for opposing defenses still recovering from Wildcat seniors Mallory Miller and Nelson.
"I don't mind it at all," said DeSaverio of not being in the starting lineup. "I mean, Kelly and Mal are awesome players, so it's not like I'm sitting behind someone that's not good."
DeSaverio and King have gotten some chances to start, with one and two starts, respectively.
Tobias said their talent affords him the flexibility of starting one of his freshmen when he has a matchup that requires more speed in the lineup.
The Wildcats' Sept. 23 contest against then-No. 3 Portland was one such game. King started the game and got one of Arizona's four shots on goal in a 3-0 loss. DeSaverio came off the bench and managed another.
"That just happened to be a match where we wanted some (faster) pace up front right off the get-go," Tobias said. "London got behind some people early on and got some good chances."
King said she'd prefer to be starting, but she knows that she and DeSaverio will likely fill their roles for the rest of the Pac-10 season and beyond, if the Wildcats do well in conference play.
And, if she does say so herself, she and DeSaverio are getting pretty good at it.
"Me and G are kind of fast," King said. "So, as soon as we get in there, the game changes really fast and we're ripping it up. The defense is already dead from Mal and Kelly, and we just go in there and pound them some more."


Write a Letter to the Editor