Thursday, October 13, 2005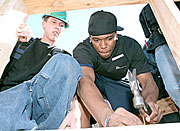 Players from the UA men's basketball team got down and dirty building houses for charity yesterday afternoon in collaboration with Habitat for Humanity and the High School Build Program.
Team members sported matching black T-shirts that read "Habitat's Tip-Off for 2005-2006" as they helped build a house at Howenstine Magnet High School for an underprivileged family.
Students from Howenstine, Santa Rita, Sabino and Sahuarita high schools participated in the kick-off event of the Habitat High School Build Program, an apprenticeship program for career and technology education students, according to a press release. [Read article]

·
Students excused for holiday
·
Admissions to become more selective at UA
·
Campus Briefs: Students still fight 3 MIPs
·
Quick Hits
·
Fast Facts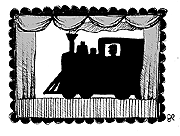 I went to see a play the other night. This being Tucson, in the middle of the performance a train went by somewhere outside the theater, and the dialogue was barely audible over the sound of the whistle. I sat annoyed for a while at this obnoxious intrusion of real life in the fantasy I'd been enjoying watching.
There's a play that many of us like to imagine about democracy. Like a lot of plays, it has a neat beginning, middle and end. In the opening act, a constitution is drafted. In the middle, a joyous and grateful people ratify it, each member represented. At the conclusion of the final act, the players take their bows and waltz off stage, confident in the new life democracy will offer. [Read article]

·
Food for thought on Yom Kippur
·
Don't be a real estate agent
·
Editorial: Registration leaves students out in the cold
·
Mailbag
Latest Issue: October 13, 2005
Latest Issue: October 11, 2005
Cool evening temperature, activities lure students outdoors
The days on campus are filled with crowds of bustling students hurrying to classes under the unrelenting Tucson sun. But when the sun goes down, the pace slows and many students find it the perfect time to work out, study or just take it easy.
"I'm out here a couple nights a week," said Peter Khoury, an undeclared freshman, between tosses of a light-emitting flying disc. "It's less crowded and the weather's better." [Read article]

require('/home/webby/html/papers/98/polls/current.php')?>

showAds('bigbutton')?>







showAds('mediumbutton')?>


showAds('wildlinks')?>