Plenty of pride at drag show
Female illusionists, amateurs entertain at Cross Dress Cabaret
Students laughed, screamed and offered dollar bills to men who strutted the catwalk last night in high heels and tight sequined dresses.
The event, "Cross Dress Cabaret," was sponsored by UA Pride Alliance in honor of National Coming Out Week, and featured both amateur student performers and professional "female illusionists." [Read article]



Reactor security report flawed
Officials: Nuclear materials cannot be used to make terror 'dirty bomb'
An ABC report that labeled the UA's nuclear reactor as a national security threat was decried by officials yesterday, who said the report was inaccurate and sensationalized.
The video report, which showed ABC interns gaining access into the Engineering building where the reactor is located, cites the UA as one of 25 college campuses across the country that could be targets of terrorism. [Read article]




Student-parents feeling left out from Family Weekend festivities
Child-friendly activities in short supply, some say
Family Weekend is advertised as an event the entire family can enjoy, but many student-parents don't feel there are enough child-friendly events during the weekend for their young children to attend.
Dorana Lopez, the president of BabyCats, a support group for student-parents, said if Family Weekend were oriented for families with young children, she would take her 4-year-old son to some of the events. [Read article]



Two students report assaults
Unclear whether they denied sexual advances
Two students have reported sexual assault-type incidents within the last two weeks, and in both cases the students said they did not clearly communicate that the sex was unwanted, according to police reports.
The incidents happened between Sept. 24 and Oct. 6 and both took place in the dorms, according to University of Arizona Police Department records. [Read article]



Campus briefs: Alum lectures on real-life CSI
DPS criminalist puts DNA crime investigations herey
A single fallen eyelash at a crime scene is a large enough clue to develop a prime suspect and issue a warrant, said a UA alumnus who is now a criminal investigator.
Brice Akridge, a criminalist at the Arizona Department of Public Safety, spoke about how mitochondrial DNA can help investigators discover a person's identity.
Students squeezed into the lecture hall seats, sat on the ground and leaned against the walls as Akridge broke down forensic science to explain the correlation between DNA samples and crime scene investigators. [Read article]



Quick Hits
Registration, drop deadlines are today
Today is the last day for students to drop a class without receiving a "W" on their transcript.
Today is also the last day for early priority registration students to sign up for classes via WebReg before the rest of the university.
'Polkey' wristbands on sale at Arizona ticket office
Wristbands honoring late Arizona women's basketball center Shawntinice "Polkey" Polk, who collapsed unexpectedly and died Sept. 26, are on sale for $2 at the Arizona ticket office. [Read article]




FastFacts
Things you've always never wanted to know
You burn more calories sleeping than you do watching TV.
A computer gets infected with a virus every five seconds.
The yo-yo was originally a weapon used in the Philippine jungles.
Queen Victoria eased the discomfort of her menstrual cramps by having her doctor supply her with marijuana.
Betsy Ross is the only real person to ever have been the head on a Pez. [Read article]




Family Weekend calendar
Animal Science meet and greet
Today 3 p.m. – 5 p.m.
Join us in recognizing the achievements of the department of animal sciences students, tour the Agriculture Facilities and interact with the faculty. Refreshments served.
Where: Campus Agriculture Center, Grass Pavilion, 4101 N. Campbell Ave.
Ants: Nature's Secret Power
Today 1 p.m. - 2:30 p.m.
A showing of the film "Ants: Nature's Secret Power" by its creator, Bert Hoelldobler. A discussion and question and answer session will follow. This film earned several awards at the 28th International Wildlife Film Festival in the spring.
Where: North Ballroom of the Student Union Memorial Center [Read article]




Copter parents should come in for landing
Parents with worries often do more harm than good, officials say
The baby boomer generation has spawned "helicopter parents," who are seen hovering over their child during the student's transition from home to college, a pattern that could keep students from learning to tackle problems on their own, an official said.
"The current generation of parents has a track record as being very involved," said Jim Van Arsdel, the director of Residence Life, who deals with parents of dorm residents on a regular basis. [Read article]




Activities abound for Family Weekend fun
UA students looking forward to spending time with their parents will have plenty of opportunities to do so during Family Weekend.
Family Weekend, which begins today and ends on Sunday, is a great way for families to come to campus and discover the unique features and programs offered at the UA as well as explore the Tucson area, said Christina Lieberman, senior coordinator for campus activities at the center for student involvement and leadership. [Read article]




Food and drink: Dining out in the Old Pueblo
Some families prefer visiting with each other while feasting on a gourmet meal and a nice bottle of wine in a soft, candlelit atmosphere.
Others might desire something a bit more casual - like a widescreen television, pitchers of beer and a few shot glasses.
No matter what kind of culinary experience parents and students prefer, Tucson has something for everyone, from elegant five-star eateries to local favorites that celebrate the region's unique flavors. [Read article]



College confessions
These are our confessions: Wildcat opinions columnists reveal what they've really been doing while they're away at college
I'm an athlete, and I've stolen things
It's all about the brotherhood, I promise.
Except when you're making your "little bro" go door to door to the sororities in boxers with an "American Pie"-style sock, porn and Vaseline, and asking to use their restroom. And the worst part of it all? When I had to do it, Chi Omega actually let me in. I even had their composite halfway to Mountain Avenue before three girls tackled me. [Read article]



Alumni won't recognize today's UA
A long time ago, in a galaxy far, far away, my father graduated from the UA with a degree in English.
This was a really bold choice for a major at the time, seeing that English language had just been invented several years prior to his entrance into the university.
But the university that he graduated from all those millennia ago and the university that I'll (hopefully) graduate from sometime in the near future exist in two different realms. [Read article]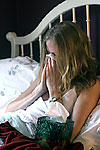 Health help on campus: Campus Health: a one-stop shop for aid
From health insurance to counseling to yoga, parents can be assured Campus Health Service offers many different health options to suit their child's needs.
The spectrum of student ailments varies from students coming in with urgent conditions like broken bones or the flu to other individuals who need check-ups or mental assessments, said Kris Kreutz, director of administrative services at Campus Health. [Read article]




Students concerned about assault, theft
Students this year have voiced concerns about pedestrian traffic, sexual assault and bike thefts.
At least three pedestrians have been hit by vehicles in the campus area since January. The Arizona Daily Wildcat has received several letters from students highlighting the frustration that comes when bicycles, vehicles and pedestrians all fight to get around on campus.
There was an attempted sexual assault on a student in September, and before that a student reported to police that someone had tried to break into her campus-area apartment. Many women have taken advantage of the OASIS Program's self-defense classes in hopes of being better prepared to fight off an attack. [Read article]



Students clean house before parents arrive
Without Mom around to clean up, a student's room can get pretty dirty, but whether they live in the dorms, fraternities, apartments or houses, UA students are racing to the mops and brooms to clean everything up before their parents can see how they really live.
"We're having a full-fledged roommate cleaning of the casa," said Ben Johnson, a political science junior who lives in a house off campus with three other men. [Read article]



Student government plans for campus child care
Student officials are hard at work trying to turn the idea of on-campus child care into a reality.
Cade Bernsen, a political science senior and president of the Associated Students of the University of Arizona, is trying to start a permanent area where student-parents can drop off their children while they attend class or advising.
Bernsen feels that it is the university's responsibility to provide for the needs of student-parents. [Read article]




In her shadow
Olympic pedigree runs in veins of UA libero Brittany Leonard, cousin of gold medalist Kerri Walsh
Playing Division I collegiate volleyball was not so much a choice for Arizona freshman libero Brittany Leonard as a rite of passage.
Leonard is the second cousin of 2004 Olympic gold medalist and Stanford alumna Kerri Walsh.
"I just wanted to play in college one day," said Leonard, who was ranked second nationally among liberos by www.prepvolleyball.com. "She inspired me to be better. [Read article]



Family rings true for Bell brothers
Football players 'as close as you can get'
For Arizona football players Travis and Tanner Bell, every weekend during the football season is Family Weekend.
When the Wildcats take on Stanford tomorrow at 4 p.m. as part of the university's Family Weekend, it won't feel that much different for the Bell pair because whether the team is in Salt Lake City, Los Angeles or Tucson, parents Tim and Tracey Bell are there to support their sons. [Read article]



A Slice Of Bacon: The good, bad and ugly of Family Weekend
I am a blessed son. I've been a student at the UA for four solid years, and my parents love me enough to visit Tucson for every Family Weekend.
Every year around this time, I make that drive down Kino Parkway to the beautiful landing strip that is Tucson International Airport to pick up Eliza and Monte, my loving mother and father.
I think four years makes you a Family Weekend expert, one that can tell you exactly what to do with your parental figures. [Read article]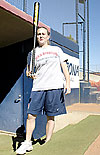 Arnold follows father by donning Cats jersey
Many students consider going to the same university as their parents a way of carrying on a family legacy.
For Arizona women's basketball player Jessica Arnold, wearing an Arizona jersey is her way of walking in her father's footsteps.
Arnold, a sophomore guard, is the daughter of Mark Arnold, a relief pitcher for the Wildcat baseball team in 1977-1978.
Jessica grew up in Tucson and always has had Wildcat blood pumping through her veins. [Read article]



The 'other' family members: Mom and Dad may write checks, but siblings worth gold
There are more people to impress than just your parents this weekend.
Sure, they're your chief benefactors during your college experience and you've got to dance the dance if you still wish to make withdrawals from the Bank of Mom and Dad.
However, you've got other people from your past coming in this weekend who may not engender severe fluctuations in your future state of finances, but they're still important nonetheless. [Read article]



A family film: Media arts student makes film about family
A father, a son and a best friend. Sounds simple enough, but this minimal plotline developed by media arts senior Jonathan Pulley is just the beginning of not only a complex story but also a senior capstone film project.
For Pulley and a dozen other media arts students, this project represents more than just the end of college education. It is the culmination of their college filmmaking career and marks the next step toward fulfilling their filmmaking dreams. [Read article]



You always remember your first time: You want me to tell my parents what?
On the surface, Family Weekend is a lot like a television game show: You make a few guesses, try to say the right thing, and hope that you'll go home with cash and prizes. After all, isn't it only fair that your parents compensate you for putting your life on hold for an entire weekend? It's not like you could ever show them the real life you're living at the UA, is it? Could they ever handle knowing that their darling child is making grown-up decisions? Do you think they would collapse under the knowledge that their adult progeny is drinking, smoking, partying and maybe (if you're lucky) engaging in amorous affairs? [Read article]