Friday, October 14, 2005


Madness back in McKale
It may no longer be at midnight, but the madness continues today in McKale Center.
The renamed McKale Madness, which officially begins the Arizona men's basketball team's 2005-2006 season, will be hosted by "Best Damn Sports Show" panelist and former NBA player John Salley. Events begin at 9 p.m.
The evening will feature a surfeit of fan-friendly events, including a slam dunk contest, a 3-point shootout and a 20-minute scrimmage involving Wildcat players, as well as T-shirt and poster giveaways, a player-autograph session and a $10,000 shot for one fan. [Read article]



UA FOOTBALL: Stanford fresh foe for Arizona
When the Arizona football team plays Stanford tomorrow in a Pacific 10 Conference matchup, forgive Wildcat players if they treat it more like a non-league game.
Only 10 players on the Arizona roster faced off against the Cardinal the last time the teams played in 2002, and a mere two started.
"I honestly can't remember ever playing them," said senior running back Mike Bell, who was limited in his carries against Stanford during his redshirt freshman season. [Read article]




Cats take first win from Cardinal since 2002
The parallels were evident between the No. 12 Arizona volleyball team's 30-24, 26-30, 29-31, 34-32, 15-8 upset over No. 3 Stanford in McKale Center last night and the Wildcats' victory over the Cardinal on Oct. 11, 2002.
Both times, the matches were played to five games and on the Wildcats' home court.
Three years ago, however, Arizona had the support of a Midnight Madness crowd of 9,141, which broke a school and Pacific 10 Conference attendance record. [Read article]



Opponent analysis: Stanford rebuilding with coach and quarterback
Stanford head coach Walt Harris had a large undertaking before him when he accepted the team's vacant position in December, leaving behind Bowl Championship Series-qualifying Pittsburgh.
In 2004, the Cardinal (2-2, 1-1 Pacific 10 Conference) finished on a five-game losing streak en route to a 4-7 overall record, 2-6 in the Pac-10.
Stanford, Arizona's (1-4, 0-2) opponent tomorrow at Arizona Stadium, has renewed direction in 2005 under Harris, who serves as both head coach and the university's Bradford M. Freeman director of football. [Read article]



By the numbers: Cats meet Cardinal tomorrow
As the Arizona football team celebrates Family Weekend on campus, let's examine a series that resumes after a two-year break:
The Cats hold a 12-8 advantage in the teams' all-time series, winning seven of the past 10 games.
Sitting at 2-2, the Cardinal has a major gaffe on its schedule - a 20-17 home loss against UC-Davis, a Division I-AA school.
Stanford returns 10 of its 11 starters on offense from last season, but only five on defense. [Read article]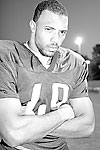 Quicker Bryan filling pass-rush void for Cats
Arizona defensive end Copeland Bryan knows a little something about sacks. In the equivalent of two games of action this season, the 6-foot-4, 240-pound senior has hit opposing quarterbacks for four of them.
And if you ask him, that number should be five.
"It was a fumble, man," Bryan said with a laugh last week of his season-opening hit of Utah quarterback Brian Johnson on Sept. 2. "I don't care - if you go back and watch it, it was a fumble. He wasn't releasing it, nothing. It just got knocked forward." [Read article]




Coach carries memories as soccer visits WSU
On the field, this weekend's road trip might not prove too challenging for the Arizona soccer team, as the Wildcats face struggling Pacific 10 Conference opponents Washington today at 7 p.m. and Washington State Sunday at noon.
But for Arizona head coach Dan Tobias, it's the most difficult trip personally.
"I can tell myself to try not to get too emotional about it. I spent five years of my life there. I met my wife there," said Tobias, who coached the Cougars between 1998-2002 before taking the head job at Arizona. [Read article]



Cross country preps for tough road meets
After holding out their top runners from competition at last week's ASU Invitational, the Arizona men's and women's cross country teams return to full strength for big meets tomorrow.
The No. 6 men's team looks to make a final push before postseason competition begins, traveling to Fayetteville, Ark., for the Chili Pepper Invitational, hosted by top-ranked Arkansas.
The meet will be the first time the Wildcat men run a 10,000-meter course this season. Arizona head coach James Li held his top seven runners out of the ASU Invitational to prepare for the extra 2,000 meters from all previous races this season. [Read article]




showAds('bigbutton')?>







showAds('mediumbutton')?>

showAds('wildlinks')?>