Saturday, October 15, 2005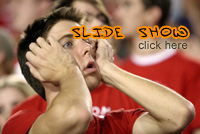 Turnovers were the Arizona football team's undoing yesterday in a 20-16 loss to Stanford before a Family Weekend crowd of 54,216 at Arizona Stadium.
The Wildcats (1-5, 0-3 Pacific 10 Conference) committed five turnovers, three of which resulted in Cardinal scores. "We killed ourselves," said senior tailback Mike Bell.
"I know a couple times myself I was dropping the ball and just being careless." In the third quarter, Bell, who rushed for 88 yards, got his first touchdown on the ground since Sept. 10, a score that cut a 10-point Stanford lead to 17-14.
Giveaways aside, Arizona won every statistical category, except the one that matters most – points. [Read article]


Friday, October 14, 2005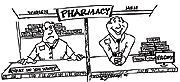 The decision of whether or not to have children is a significant one and is legally in the hands of the would-be mother. Contraceptive use has been considered a personal decision for decades, but recent years have seen a disturbing trend among some pharmacists who have refused to fill prescriptions for birth control, emergency contraception and other medication, citing moral or religious objections.
Getting such a prescription filled can be uncomfortable enough as it is. Add now the risk of judging eyes and refusal of service from the other side of the window, and we have a downright disgraceful situation. [Read article]

·
Pooh's Hundred Acre Wood sets example for social acceptance
·
Pass/fail: See if these ideas make the grade
·
Mailbag
Latest Issue: October 13, 2005
Latest Issue: October 11, 2005
Cool evening temperature, activities lure students outdoors
The days on campus are filled with crowds of bustling students hurrying to classes under the unrelenting Tucson sun. But when the sun goes down, the pace slows and many students find it the perfect time to work out, study or just take it easy.
"I'm out here a couple nights a week," said Peter Khoury, an undeclared freshman, between tosses of a light-emitting flying disc. "It's less crowded and the weather's better." [Read article]

require('/home/webby/html/papers/98/polls/current.php')?>



showAds('bigbutton')?>







showAds('mediumbutton')?>


showAds('wildlinks')?>