Monday, October 17, 2005


Turnovers, errors kill Cats' chances: Arizona 16 - Stanford 20
Multiple turnovers cost Wildcats shot at first conference win
Turnovers were the Arizona football team's undoing Saturday against Pacific 10 Conference foe Stanford, as the Wildcats lost 20-16 before a Family Weekend crowd of 54,216 at Arizona Stadium.
In its first home conference game of 2005, Arizona (1-5, 0-3 Pac-10) committed five turnovers, three of which led to Cardinal scores.
"We killed ourselves," said senior tailback Mike Bell. "I know of a couple times myself I was dropping the ball and just being careless." [Read article]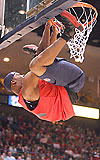 McKale Madness: Basketball kicks off earlier
Cowboy boots, Salley, Hummer highlight official start of season
The start of the Arizona men's basketball team's 2005-2006 season might not have come at the crack of midnight, but the madness enveloped McKale Center nonetheless Friday night.
Wildcat head coach Lute Olson showed up to McKale Madness wearing jeans and cowboy boots with the relaxed look defining the event.
"This is the greatest basketball town in America, and you showed that again," Olson told the crowd before taking a seat in the stands with his wife, Christine. [Read article]




Volleyball shuts down California
The No. 12 Arizona volleyball team proved that McKale Madness wasn't the only in-house entertainment Friday night, as the Wildcats swept No. 13 California in McKale Center before 6,189 fans.
The Wildcats (14-2, 6-1 Pacific 10 Conference) out-hit the Golden Bears (13-4, 6-2) .242 to .162 en route to a 30-24, 30-27, 30-28 victory.
Arizona was out-blocked 8.5-8 but dished out eight service aces compared to Cal's three. [Read article]



Top Cats
The best of the weekend's athletic performances
Volleyball: Kim Glass
No. 86 • Outside hitter Averaged 13. 5 kills and 10 digs in wins over No. 3 Stanford and No. 13 California
Cross Country: Robert Cheseret
Junior Took third place at Chili Pepper Invitational in Fayettville, Ark.
Soccer: Mallory Miller [Read article]




Soccer loses in double OT
Disputed last-second whistle key in 2-1 loss to Washington State
The Arizona soccer team forged a split in its second weekend of Pacific 10 Conference play, losing 2-1 in double overtime yesterday to Washington State, while defeating Washington 1-0 Friday night.
The Cougars (8-6-1, 1-3 Pac-10) came back from a 4-2 loss to ASU on Friday to hand the Wildcats (8-4-2, 3-1) their first conference loss. [Read article]




McKale Madness: Present and future go head-to-head
Adams-Williams matchup steals show
McKale Madness was a fun and enjoyable event for Arizona men's basketball fans and players alike, so one could expect the 20-minute scrimmage that ended the night to be fun and relaxed as well.
Apparently the guys on the team didn't get the memo.
Once the competitive juices began flowing, the game turned into what looked for all the world like a fierce midseason battle, and no two players seemed to push harder than senior forward Hassan Adams and freshman forward Marcus Williams. [Read article]




Game Analysis: 'We were our own worst enemy'
Miscues keep Wildcats winless in conference
The Arizona football team beat Stanford in nearly every statistical category Saturday night.
Total yards, 271-195. First downs, 17-11. Time of possession and third-down conversions? Advantage Cats.
The problem was they also topped the Cardinal in turnovers, 5-0, and that caused the Wildcats to lose to the Cardinal in the only category that counts - the final score. [Read article]



Cross country men runners-up in Arkansas
The No. 6 Arizona men's cross country team captured second place at the Chili Pepper Invitational on Saturday in Fayetteville, Ark.
Junior Robert Cheseret led the way for the Wildcats, finishing in third place with a time of 28:34. Junior Odeb Mutanya finished in 12th place, as junior Moses Mpanga, sophomore Mohamaed Trafeh and senior Jonah Maiyo also placed for Arizona.
The Wildcats' 93 points were good enough to hold off No. 11 UTEP for second place behind host No. 1 Arkansas, which scored 57. [Read article]




showAds('bigbutton')?>







showAds('mediumbutton')?>

showAds('wildlinks')?>