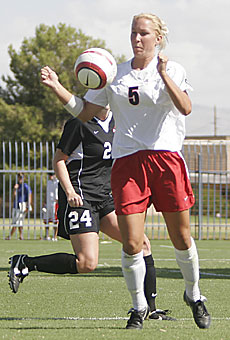 Claire C. Laurence/Arizona Daily Wildcat

Senior midfielder-forward Mallory Miller maneuvers the ball around an opponent during a game against Oregon State at Murphey Stadium on Oct. 9. Miller scored her Pac-10-leading 15th goal against Washington on Friday.

Arizona Daily Wildcat
Monday, October 17, 2005
Print this


Disputed last-second whistle key in 2-1 loss to Washington State

The Arizona soccer team forged a split in its second weekend of Pacific 10 Conference play, losing 2-1 in double overtime yesterday to Washington State, while defeating Washington 1-0 Friday night.

The Cougars (8-6-1, 1-3 Pac-10) came back from a 4-2 loss to ASU on Friday to hand the Wildcats (8-4-2, 3-1) their first conference loss.

Arizona led 1-0 in Pullman, Wash., through the 89:59 mark, when a referee whistled senior forward Kelly Nelson for bringing down WSU's Alix Rustrum.

Cougars midfielder Carmen Anderson slipped the ensuing penalty kick past Wildcats goalkeeper McCall Smith, sending the match to overtime.

Anderson ended the game almost 40 minutes later in the second overtime period, connecting on a free kick for her sixth goal of the season.

Arizona head coach Dan Tobias received a red card and was ejected from the game after arguing the call at the end of regulation. It was the second time this season Tobias has been ejected from a match, the first coming at a home game Sept. 16 against Utah.

Tobias did not return calls seeking comment last night.

Weekend Wrap-Up
Friday:
Arizona defeats Washington 1-0
Mallory Miller (senior midfielder-forward):
Pacific 10 Conference-leading 15th goal
Yesterday:
Arizona defeated by Washington State 2-1 (double overtime)
Gianna DeSaverio (freshman forward):
third goal of season
Dave Rubio (head coach): red card for arguing,
second ejection of season
Freshman forward Gianna DeSaverio scored her third goal of the season in the 61st minute yesterday off a corner kick from senior midfielder-forward Mallory Miller.
Miller scored the deciding goal in Arizona's victory over the Huskies in Seattle, her conference-leading 15th goal.
Washington (0-12-3, 0-4) managed only two shots on goal, as Smith earned her sixth shutout of the season.
Sophomore defender Kaity Heath tallied her first point of the season with the assist on Miller's goal.
---
Information taken from Washington State University's athletics Web site and www.arizonaathletics.com.


Write a Letter to the Editor