Tuesday, October 18, 2005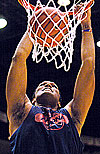 Basketball notes: First recruit of 2007 class commits
Mater Dei 7-footer Jacobsen gives verbal commitment to Cats
Alex Jacobson, a 7-foot-1 junior center from Mater Dei High School in California, came to Tucson over the weekend and didn't leave empty-handed.
Jacobson, who had been favoring the Arizona men's basketball team, became the first player from the class of 2007 to verbally commit to the Wildcats.
Jacobson met with his family, his trainer, Trent Suzuki, and Arizona head coach Lute Olson on Saturday and decided he wanted no part of the future recruiting process. [Read article]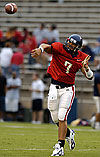 Football Notes: Tuitama may debut against Ducks
Redshirt QB could play as Kovalcheck status questionable
Two days after a disappointing Pacific 10 Conference loss at home to Stanford, Arizona football head coach Mike Stoops said a change at quarterback is not out of the question heading into the team's remaining five games.
"We've thought about it," Stoops said at his weekly press conference yesterday. "We'll get (freshman) Willie (Tuitama) ready to play. How much ... we're going to see." [Read article]



From the booth: Playing Willie may make or break season
Ask and ye shall receive.
After much discussion, much angst and much flailing about by the Arizona football team en route to its 1-5 start, freshman quarterback Willie Tuitama should see game action Saturday against the Oregon Ducks, in the process making his much-anticipated Wildcat debut.
"I think we have to give him a chance," said Arizona head coach Mike Stoops at his weekly press conference yesterday. [Read article]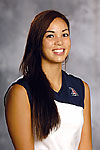 Volleyball's Baum earns national, Pac-10 honors
Junior opposite hitter Kristina Baum of the No. 8 Arizona volleyball team was named the American Volleyball Coaches Association's and the Pacific 10 Conference's top player for the week of Oct. 10-16 yesterday.
Baum hit .383 while averaging 3.5 kills and 2.62 digs per game. She posted career highs with 17 kills and 13 digs in a five-game victory over No. 5 Stanford on Thursday, and hit .385 with 11 kills and eight digs in a sweep of No. 14 California on Friday. [Read article]



Tennis' Matalonga, Andrus take doubles title in Texas
Arizona men's tennis seniors Roger Matalonga and Daniel Andrus came out on top at the Midland Invitational in Midland, Texas, on Sunday, winning four matches to take the doubles title.
The duo, ranked No. 31 in the nation, defeated UCLA's Aaron Yovan and Chris Surapol in the finals 8-3.
Matalonga and Andrus met Rice's No. 21 team of Robert Searle and Ben Harknett in the semifinals, winning 9-8, after advancing against pairs from Baylor and Duke. [Read article]



On the air
A sampling of what's on today
Talk: Sports Fire
Head-to-head sports debate
Hosts: Joe Rabinowitz and Adam Green KAMP 1570 AM/kamp.arizona.edu - 6 p.m.
Soccer: Manchester United vs. Lille OSC
UEFA League - ESPN2 - 2:30 p.m.
Baseball: 1995 World Series - Braves at Indians
ESPN Classic - 3 p.m. [Read article]




showAds('bigbutton')?>







showAds('mediumbutton')?>

showAds('wildlinks')?>