Tuesday, October 18, 2005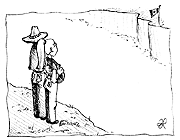 Rep. J.D. Hayworth, R-Ariz., seems to be one of the few members of the Arizona delegation to Congress who offers any real solutions to the illegal immigration problem that does not involve the ill-advised call for amnesty that was repeatedly followed in the mid-1980s and only resulted in millions of illegal immigrants currently residing in this country.
And illegal immigration is a problem. A big, ever more expensive problem in the way of illegal immigrants collecting on benefits, clogging our justice system and bringing more violent crime (as if Tucson's crime rate wasn't high enough because of our own home-grown criminal scum). [Read article]

·
ASUA out of touch
·
Students: Join in solar effort
·
Editorial: Credentials, experience should be focus of committee
·
Mailbag
Latest Issue: October 13, 2005
Latest Issue: October 18, 2005
What can be said about hair that hasn't been said before? It's important? Well, it protects our heads from all kinds of calamities: low branches, the hot Arizona sun, bird poop.
After all, the existence of hair has been a pivotal part of our human history. The cave men pulled the cave women by it during the Ice Age. Rapunsel let her man climb up it for wild nights of tower partying and fairy tale sex. Even today, don't we judge all politicians by the size and greatness of their hair? (So why didn't Kerry win then?) [Read article]

require('/home/webby/html/papers/98/polls/current.php')?>

showAds('bigbutton')?>







showAds('mediumbutton')?>


showAds('wildlinks')?>