Wednesday, October 19, 2005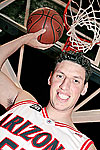 Radenovic, home sweet home
Serbia and Montenegro has been tormented by violence, wars and political turmoil, but amid the chaos, the country has produced world-renowned basketball stars like Vlade Divac and Peja Stojakovic.
Junior forward Ivan Radenovic of the Arizona men's basketball team called the country home for most of his life, and last summer, he was able to return to his old stomping grounds.
Radenovic first arrived at Arizona in spring 2003 and quickly had to adjust to the different lifestyle as well as the heightened speed of the game. [Read article]




Football Notes: Stoops: We're not good enough to make mistakes
Coming off its third consecutive Pacific 10 Conference loss, Arizona football head coach Mike Stoops said he was pleased with many of the things the Wildcats did against Stanford on Saturday, but that his team continues to undermine its shots at victory.
Stoops cited turnovers, dropped passes, penalties, missed assignments and bad reads as areas to be corrected if the team wants to turn around its season. [Read article]




Women's Ultimate Frisbe Team: Plastic makes the perfect experience for women's ultimate team
Tossing a plastic disc back and forth seems fairly straightforward. Yet, terms like "inside-out forehand" and "inside-out backhand" makes Frisbee lingo sound like a completely different language.
Members of the Arizona women's ultimate Frisbee team speak that lingo fluently and have used it well. Their squad has been a part of the Arizona family of club sports since 2002, when the team took third in its region. [Read article]



A slice of bacon: What is fan old fan to do?
It isn't easy being an Arizona football fan. You know that "how the hell did we just turn the ball over again, is there a pill to make this anguish go away" sort of feeling you get deep in your gut?
It isn't depressing, it's perplexing. Can someone get Dr. Phil on the phone so we can have a group intervention?
I've started thinking maybe it was something I was doing to make this team's ability to win as questionable as Kenny Chesney's sexuality. [Read article]



Soccer's Tobias loses appeal on overtime loss
The Arizona soccer team's 2-1 double-overtime loss Sunday to Washington State will stand, a Pacific 10 Conference official said yesterday, despite attempts by Wildcat head coach Dan Tobias to protest the outcome because of a questionable last-second penalty.
Kevin Anderson, the Pac-10's assistant championships director, said in a phone interview that he spoke with Tobias on Monday and informed him of the decision. [Read article]



Freshman linebacker Palmer looks to bring the noise against Ducks
Redshirt freshman Ronnie Palmer, a 6-foot-2, 230-pound linebacker out of Spring, Texas, appeared primed for a starting role on the Arizona football team in 2005 after an impressive showing in spring practices.
His Wildcat debut was delayed, however, when a broken foot suffered in training camp this fall sent him to the sidelines for more than six weeks.
In his return Saturday against Stanford, Palmer made three tackles and assisted on a sack in limited playing time. Against No. 15 Oregon at Arizona Stadium on Saturday, Palmer should see increased game action, boosting the Wildcats' run defense. [Read article]



On the air
A sampling of what's on today [Read article]




showAds('bigbutton')?>







showAds('mediumbutton')?>

showAds('wildlinks')?>