Wednesday, October 19, 2005


Give me liberty at my death
Today's value wars are so heated because we, as voters, never get to decide. We feel so angry because issues such as abortion and religious displays in state institutions are not being decided by "we the people," but rather by the courts.
A new controversy in this legal minefield currently envelops an Oregon law. Known as the Death With Dignity Act, the law allows willing doctors to prescribe medications that terminally ill patients take to end their lives. [Read article]



When teachers got report cards
Gone are the days of sprinting home on report card day to snatch that incriminating document from the mail before it can ever reach the hands of Mom and Dad. No longer can junior high students try to secretively erase the answering machine before a message can ever be played that begins, "During school today, your son/daughter was not present ..."
In fact, all sorts of information about grade school students is now just one click away from their parents, via the Internet-based parental-access system that the Tucson Unified School District has implemented. [Read article]



Writing in the margins: Voters, take a left
Every once in a while, a race comes along in which a community faces stark differences. It is the stuff politicos and activists dream of. Two candidates completely different in every possible way, minus one: They each believe they have the correct vision for that community. That race is the one Tucson faces now.
Tucson is at a crossroads: one in which, if Tucsonans turn right, they stay with the status quo, Tucson with uncontrolled growth, regressive taxation and a City Council majority with its hands in the pockets of special interests. [Read article]



Editorial: America still not secure
It's no matter of hyperbole to suggest that security supersedes all other concerns in the American conscience. But the actual safety of America's citizens is still in question.
Although there were terrorist acts before Sept. 11, 2001, like the first World Trade Center attack and the Oklahoma City bombing, Sept. 11 shattered American complacency and proved that our nation is indeed vulnerable to those who would so maliciously attack us. [Read article]



Mailbag
Bennett's 'experiment' deserves no defense
How someone could back up the comments of Bill Bennett is beyond me. I was surprised that people in the mainstream media attempted to do so (Fox News anchorman Brit "The only black people I see are on TV" Hume). However, Scott Patterson's recent column "Bennett owes no apology" did just that.
Bill Bennett served as the secretary of education under President Reagan from 1985 until his resignation in 1988, and often ridiculed (heaven forbid) multicultural courses. In the conversation, which Bennett describes as a "thoughtful experiment about public policy on national radio," he was speaking with a caller about abortion and lost revenue from the aborted babies, who in life would have become consumers and eventually taxpayers. [Read article]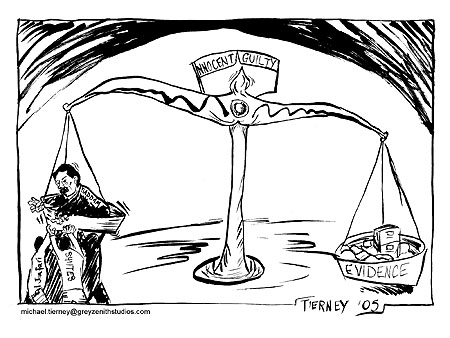 showAds('bigbutton')?>







showAds('mediumbutton')?>

showAds('wildlinks')?>