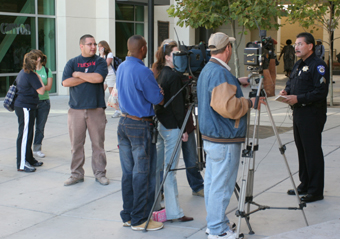 Cassandra Tomlin/Arizona Daily Wildcat

UAPD Sgt. Eugene Mejia briefs reporters in a Student Union Memorial Center breezeway at around 9 a.m. this morning after a man was found dead in the SUMC basement.

By Danielle Rideau
Arizona Daily Wildcat
Wednesday, October 26, 2005
Print this


Dead body found in student union

A dead body was found in the basement of the Student Union Memorial Center early this morning.

A UA employee found the body of a man in his late teens somewhere outside the Cellar Restaurant in Wilbur's Underground, said Sgt. Eugene Mejia, University of Arizona Police Department spokesman.

UAPD received a call from the employee at about 6:01 a.m., Mejia said. Wilbur's Underground closes at closes at 2 a.m. and the custodial department arrives at about 5 a.m. to begin opening the facility.

The officer who arrived on the scene did not see any signs of life in the body, and the Tucson Fire Department pronounced him dead when they arrived shortly after, Mejia said.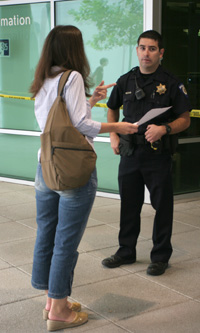 Cassandra Tomlin/
Arizona Daily Wildcat
Police are still investigating the incident and are unsure of the identification of the man, the cause of his death and if he was a UA student, Mejia said.
Police are still investigating whether the man fell, jumped or was pushed to his death from the four story-building complex. They do not know how high his fall was, Mejia said.
The east side of the SUMC was taped off and secured by police this morning, but now everything has been opened again for use.
There are meetings scheduled in several conference rooms in the SUMC today, said Paul Allvin, UA vice president of communications.
To find out if a meeting has been postponed call 621-1412.


Write a Letter to the Editor