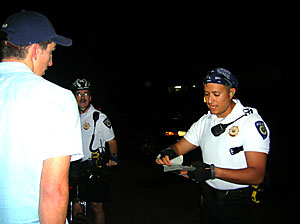 Lisa Rich/Arizona Daily Wildcat

UAPD officer Andrew Valenzuela goes over a minor in possession citation with a student who was cited for underage drinking on Sept. 2. A DUI task force and UAPD will be increasing their patrols this weekend.

By Ross Hager
Arizona Daily Wildcat
Friday, October 28, 2005
Print this


Drivers should be on high alert, police say

Police are expecting an increase in unusual activities this Halloween weekend and are urging students to use good judgment while partying.

"We do not oppose students having fun," said Sgt. Eugene Mejia, University of Arizona Police Department spokesman. "But you can have fun without drinking."

Although UAPD has not had any major problems on Halloweens in the past, Mejia said there is always the possibility of more parties and more Halloween pranks.

Police are not against pranks that are in "good jest," Mejia said, but when property is damaged, students are committing criminal violations and "some pranks can go wrong."

You can have fun without drinking.
- Sgt. Eugene Mejia, UAPD spokesman

Along with an increased number of parties, Mejia said drivers should pay attention to the higher level of pedestrian traffic.
"Drivers need to drive a little slower," Mejia said. "And drive a little more alert."
Because of the possibility of more parties, Mejia said students should use good judgment and not drink and drive.
Journalism senior Nigel Fullerton said he has taken precautions to make sure he is safe over the weekend.
"I got Yellow Cab on speed dial," said Fullerton, who is dressing up as a Knight of Ni from the movie "Monty Python and the Holy Grail." Fullerton said, "I'm going to get horribly drunk and do my best to be hung over on Sunday."
Fullerton said he knows students should be more careful Halloween weekend because more police will be out there to crack down on drunk drivers.
The Arizona Driving Under the Influence Task Force will not be patrolling this weekend or on Halloween, but Mejia said there is always an increased focus on DUIs during major weekends and hopes that because Halloween falls on a Monday, students will be focused on studying.
"It's a normal school night for us," Mejia said.


Write a Letter to the Editor