Friday, October 28, 2005


Beaver blitz may await Tuitama
Freshman quarterback to start tomorrow against Oregon State
With 8:14 left in the first quarter of the Arizona football team's 28-21 loss to Oregon on Saturday, freshman quarterback Willie Tuitama entered the game and sparked not only the crowd but also the Wildcats.
Tuitama brought Arizona back from a 21-0 deficit to tie the game at 21 and finished the night 18-of-34 for 182 yards, two scores and an interception. [Read article]




Icecats Season Preview: Senior captains highlight '05 team
The Arizona men's club hockey team brings hockey back to Tucson in its 27th season tonight at 7:30 against rival ASU in the Tucson Convention Center.
The Icecats (2-1) return home from the ACHA Showcase in Youngstown, Ohio, last weekend, where they defeated preseason No. 6 Michigan-Dearborn 8-5 and Buffalo 7-2 but fell to No. 4 Rhode Island 3-2.
"The kids really made a statement, and we're proud as heck of them," said Arizona head coach Leo Golembiewski, who boasts a 534-138-20 career record. [Read article]




Volleyball loses in 5 to Huskies
Victory was within reach for the No. 9 Arizona volleyball team as it battled Pacific 10 Conference leader No. 2 Washington in McKale Center last night.
But a ball-handling violation on sophomore setter Amy Dyck secured the final point of the fifth game for the Huskies, who won 19-30, 31-29, 30-21, 34-32 and 16-18, extending their season record to 18-0 overall, 10-0 in the Pac-10.
"It's kind of disappointing to lose a match on a mishandled ball like that, but Amy set a heck of a match," said Arizona head coach Dave Rubio. "I'm proud of her. She's made some good strides the last couple of weeks, and I think that tonight was probably the best match she's set. It's just unfortunate that it had to end that way." [Read article]




UA sports versus ASU theater plays into friendly family rivalry
Don't tell the Klein family it must choose between Arizona and ASU.
For senior midfielder Jennifer Klein of the Wildcat soccer team and the other four members of her immediate family, it just isn't that simple.
They are all part Wildcat, part Sun Devil. It all comes down to shinguards or Shakespeare. Stage or soccer field. The goal line or reciting lines.
When Klein and Arizona (9-4-3, 4-1-1 Pacific 10 Conference) take on ASU (8-6-3, 3-2-1) tomorrow at 7 p.m., the choice becomes obvious. But if Arizona and ASU were to face each other in a theater competition, the family would be cheering for the Sun Devils, because Jennifer's twin sister, Christine, is in ASU's theatre arts program. [Read article]



Swim and dive opens season vs. Penn, Wisc.
The Arizona swim and dive teams couldn't have asked for a better start to their 2005-06 season, hosting Wisconsin and Penn State today at 2 p.m. at Hillenbrand Aquatic Center.
While the Badger men and women are both 3-0 this season, the Wildcats have dominated dual meets between the teams, holding a combined 7-1 all-time record.
In their first action since March's NCAA Championships, both Arizona teams will face off against Wisconsin, while only the women will meet the Nittany Lions (3-0, 1-0 Big Ten Conference). [Read article]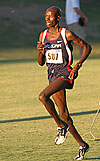 Cross country to host first Pac-10 Championships
The Arizona cross country teams have similar agendas as they host their first Pac-10 Championships tomorrow morning at the Dell Urich Golf Course.
The No. 7 Wildcat men's team, which begins its race at 9:30 a.m., is looking to dethrone No. 4 Stanford, winner of the last five and eight of the last nine conference titles. Arizona won its seventh title in 1999.
"The Pac-10 is a prestigious conference," said Arizona cross country head coach James Li. "We definitely want to place as high as we can. (It's) important to be able to match up with one of the top teams in the nation." [Read article]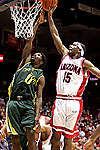 Cats showing comfort in new offense
Arizona men's basketball head coach Lute Olson runs demanding practices, but he's liked what he's seen from the Wildcats in the last two weeks.
Players have had only two days off since practice began Oct. 15 and still have some time to go before Wednesday's Pepsi Red/Blue Game.
"We've been very happy with the amount of effort and enthusiasm the guys have shown," Olson said yesterday in a press conference. [Read article]



Bear Down Blitz: WR Hass brings big stats in matchup with Cats 'D'
Oregon State redshirt senior wide receiver Mike Hass made a splash Saturday against No. 8 UCLA in Los Angeles, catching seven passes for 199 yards - the same yardage Arizona's passing gained the same day against No. 14 Oregon.
"He goes after every play, and you know you have to do the same, or he'll make you look stupid," said Arizona sophomore cornerback Wilrey Fontenot.
Tomorrow, Fontenot and fellow cornerback Antoine Cason will take on primary defense duties for Hass, a player who has put opposing secondaries on the wrong end of highlight reels all season. [Read article]



Staff Picks
Arizona at Oregon State
Ryan Casey: Cats by 60. Please - would a publication made up of students pick against their classmates? I think a few of us even took the Cats to win at Southern California. Don't even tell me you don't think we can win this game! (By the way, if you think that the Beavers will have the advantage simply because they will don the orange and black over Halloween weekend, they won't.) [Read article]




showAds('bigbutton')?>







showAds('mediumbutton')?>

showAds('wildlinks')?>