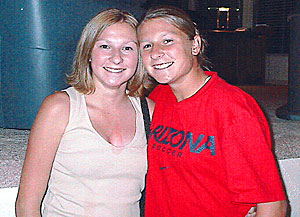 Photo courtesy of Jennifer Klein

Christine Klein and her twin sister, senior midfielder Jennifer, come from a family with loyalties divided between ASU theater and Arizona sports.

By Amanda Branam
Arizona Daily Wildcat
Friday, October 28, 2005
Print this


Don't tell the Klein family it must choose between Arizona and ASU.

For senior midfielder Jennifer Klein of the Wildcat soccer team and the other four members of her immediate family, it just isn't that simple.

They are all part Wildcat, part Sun Devil. It all comes down to shinguards or Shakespeare. Stage or soccer field. The goal line or reciting lines.

When Klein and Arizona (9-4-3, 4-1-1 Pacific 10 Conference) take on ASU (8-6-3, 3-2-1) tomorrow at 7 p.m., the choice becomes obvious. But if Arizona and ASU were to face each other in a theater competition, the family would be cheering for the Sun Devils, because Jennifer's twin sister, Christine, is in ASU's theatre arts program.

Because the siblings have such different interests, it makes the decision of which school to support easy for their parents, Mike and Andrea, who have been married for 22 years.

"I'm a Wildcat fan. ... I don't follow ASU athletics at all," said Mike Klein, a real estate broker in Prescott. "But I got to tell you, the ASU comedy groups are better than the UA groups."

Christine admits the same. She said when she's watching Jennifer play in a soccer game, no matter the opponent, she wears an Arizona shirt (she also admitted she prefers the Arizona school colors). Christine can sing "Bear Down, Arizona" but has no idea what the words are to ASU's fight song, "Maroon and Gold."

Jennifer, one of four senior captains for the Wildcats, simply states her family's split loyalties.

"There's a big favoritism toward UA sports ... but in theater, everyone is an ASU fan," she said.

Mike said it was clear early on that the two girls, despite being twins, were different in their interests and personalities. For Christmas, Jennifer would give Christine dresses, while Christine would give Jennifer jeans.

By the time middle school was over, it became clear that Jennifer was the athlete and wanted to take her sports seriously. Christine took the theater road.

While Jennifer spends her summers playing in various soccer leagues and keeping in shape for the upcoming season, Christine has spent parts of her summers in London participating in acting programs.

Despite all these differences, a common bond stands out.

"We both have really similar humor," said Christine with a laugh. "When we're together, we are able to entertain ourselves."

Their respective interests led them to different places. Also factoring into their decision to separate was the opportunity to not be seen as the single entity of Jennifer-and-Christine, but rather as Jennifer. And Christine.

"I think we both agreed it was best for us to go to different schools, to grow into our own as individuals," Jennifer said. "Kind of like our own identities."

Jennifer and Christine are so busy, they have only seen each other once since June. Jennifer said they talk a couple of times a week but only get to see each other on holidays or big breaks.

Game Info
ASU (8-6-3, 3-2-1 Pac-10)
at Arizona (9-4-3, 4-1-1)
Tomorrow, 7 p.m.
Murphey Stadium
(corner of East 15th Street and South Plumer Avenue)
Both plan to graduate in May, Jennifer with a B.S. in biology and a minor in chemistry, and Christine with a B.A. in theatre.
Jennifer said she plans to help in some coaching capacity with the Wildcats next season and maybe take some graduate courses in physical education.
Christine plans to continue studying performance in graduate school, whether in the U.S. or in London.
Tomorrow, however, Mike and Andrea will make the 3 1/2-hour drive from their home in Prescott to Tucson for the game.
While they are here, they will get to see Jennifer make her 16th start in 16 games this season as one of the backbones of this Wildcat team for almost her entire career.
They will watch the game from the stands with their youngest child, Michael, a 19-year-old pre-architecture freshman at Arizona.
On the way to Tucson or on the way back to Prescott, they'll make a stop through Tempe and visit Christine, who can't make the game because of rehearsals for her upcoming play "The King Stag."
"We make it to all the home games," said Mike, adding quickly, "And we get to all the plays."


Write a Letter to the Editor