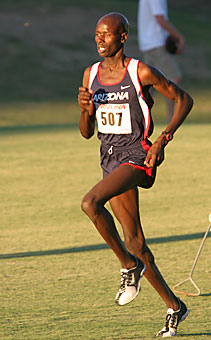 Josh Fields/Arizona Daily Wildcat

Junior cross country runner Robert Cheseret won the Dave Murray Invitational on Sept. 16 at the Dell Urich Golf Course. Cheseret aims to lead the Wildcats in the 8,000-meter race tomorrow morning when the men's and women's cross country teams host their first Pac-10 Championships.

By Jason Kleinman
Arizona Daily Wildcat
Friday, October 28, 2005
Print this


The Arizona cross country teams have similar agendas as they host their first Pac-10 Championships tomorrow morning at the Dell Urich Golf Course.

The No. 7 Wildcat men's team, which begins its race at 9:30 a.m., is looking to dethrone No. 4 Stanford, winner of the last five and eight of the last nine conference titles. Arizona won its seventh title in 1999.

"The Pac-10 is a prestigious conference," said Arizona cross country head coach James Li. "We definitely want to place as high as we can. (It's) important to be able to match up with one of the top teams in the nation."

Having the race at home is something Li said he hopes will be an advantage. The last time Arizona ran at Dell Urich, the men came in first place at the Dave Murray Invitational on Sept. 16.

"Weather is a factor, altitude is another," he said. "We are higher (2,389 feet) than any Pac-10 school. They will need to do some adjustments. We know the course (and) we have been practicing on it, too."

Junior Robert Cheseret aims to lead the Wildcat men in the 8,000-meter race and said he's looking forward to defending his title as the Pac-10 men's champion, but he also wants to see the entire team work together for a title.

"To win as a team (is what) I think everyone is running for, to get some points and win a title," he said.

Cheseret, who finished third in the Chili Pepper Invitational on Oct. 15 in Fayetteville, Ark., said he thinks his path to another title will be most obstructed by another Wildcat.

"I think my teammate (junior) Obed (Mutanya)," he said. "He's looking good, and so that's going to be my main competition out there."

MEET info
Pac-10 Championships

Tomorrow
9:30 a.m. (men's race)
10:30 a.m. (women's race)
Dell Urich Golf Course (600 S. Alvernon Way)
Wildcat Watch
Robert Cheseret (junior)
Pac-10 individual men's champion, 8,000-meter
Emily McGregor (sophomore)
Placed first among Arizona runners in three races this season
Mutanya, a junior college transfer has finished at first, second and 12th place in his four races this season.
Also expected to compete for the Wildcat men are sophomores Mohamed Trafeh and Kenny Frank and juniors Moses Mpanga and Eric Chavez, who all have at least one top-five finish this season.
The Wildcat women face even tougher competition, as they try to win their first Pac-10 team championship and also take down No. 2 Stanford, which has won nine consecutive titles, as well as No. 5 ASU and No. 22 Washington.
Leading the women in the 6,000, which begins at 10:30 a.m., is redshirt sophomore team captain Emily McGregor, who has been the first Wildcat runner to cross the finish line in each of her three races this season.
McGregor said she also thinks that running on a familiar course will help the team compete with stronger opponents.
"I know the course like the back of my hand," she said. "I know where to start making my move and where the most challenging parts of the course are going to be."
Joining McGregor in competition will be senior Fanice Chepkorir, who has been the second runner to finish for the Wildcats in her races, juniors Robin Tierney, Ashley Ippolito and Karen Langdorf, and sophomore Angelina Cabrera.


Write a Letter to the Editor