Arizona Daily Wildcat
Friday, October 28, 2005
Print this


Arizona at Oregon State

Ryan Casey: Cats by 60. Please - would a publication made up of students pick against their classmates? I think a few of us even took the Cats to win at Southern California. Don't even tell me you don't think we can win this game! (By the way, if you think that the Beavers will have the advantage simply because they will don the orange and black over Halloween weekend, they won't.)

Shane Bacon: Oregon State 30, Arizona 17. Let's see, when I was a freshman, I was doing the following: I was struggling with my natural sciences 101 class, figuring out how exactly to use my accent to my advantage, and spending countless hours at my fraternity house when I wasn't hosting Bud Light Bottle Night at Palm Shady, my first home away from home. Freshman quarterback Willie Tuitama kind of does the same thing for Arizona. He is figuring out how to save a Division-I football team's season. Does that make me worthless?

Roman Veytsman: Arizona 28, Oregon State 27. Willie Tuitama reminds me of Vince from HBO's "Entourage." He's the superstar with his own action figure, fans screaming his name and the talent to support the hype. He needs his entourage to step up and make some moves, and maybe even, God forbid, catch the ball, if the Wildcats have any chance of upsetting the Beavers. If Willie can be Aquaman, Arizona's superhero will not only beat Oregon State, but he'll be in a starring role for many seasons to come.

UCLA at Stanford

Ryan Casey: UCLA 50, Stanford 35, Fans 12. In the battle between schools to see who can draw fewer fans, they may as well play this one at a local high school. A paltry 31,711 people saw the Cardinal smoke ASU last weekend 45-35. Yeah, I know UCLA is an in-state foe, but please, we're talking about people from Los Angeles. Sure 49,932 "attended" last Saturday's game against Oregon State, but how many of them actually had an impact showing up halfway through the second quarter and leaving midway through the third? At least they were there for halftime.

Shane Bacon: Stanford 21, UCLA 20. Oh, the California matchups. UCLA goes into this game ranked eighth in the nation, which makes about as much sense as getting a kid from MTV's "Laguna Beach" to take the SAT for you. Stanford rose from the ashes to get itself to 3-1 in conference play and is riding a "I just kicked the hell out of anything Arizona-football related" high. UCLA is tough, Maurice Drew is for real, but the Bruins will hit an equationlike wall in Palo Alto come tomorrow.

Roman Veytsman: UCLA 42, Stanford 24. I've reached the realization that Stanford is just smarter than everyone else in the conference, and by a lot. How else can you explain them being 3-1 in the Pac-10 while having less talent than Pauly Shore? However, they apparently aren't smart enough to know that a tree makes a stupid mascot and because of that, they won't beat UCLA. You always have to go with the tougher mascot when picking football games. Plus, UCLA must stay undefeated until we play spoiler at Homecoming.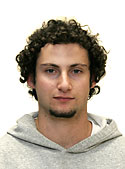 Roman Veytsman
staff writer
Georgia at Florida
Ryan Casey: Florida 26, Georgia 25. At 7-0, Georgia will be up on its high horse thinking they're going to roll over the two-loss Gators. I'll take the Gators winning on an Urban Meyer-crafted last-second play where QB Chris Leak pitches the ball to WR Chad Jackson on a reverse, who then laterals it to RB DeShawn Wynn, who hands the ball off to fellow RB Josh Portis, who heaves the ball 70 yards to the open arms of WR Dallas Baker. Simple.
Shane Bacon: Georgia 35, Florida 14. You have to hate it for the Bulldogs. The team is 7-0 in the SEC, has a top-five defense and pretty much would need Matt Leinart to quit the team for a role in "Newlyweds - Season 3," Vince Young to get run over by Bevo and Marcus Vick to start doing drugs again to have a shot at a national championship. No matter what the computers give them, they'll roll over Chris Leak's squad.
Roman Veytsman: Florida 30, Georgia 13. Getting back to mascots, how can you bet against Uga VI (not to be confused with Uga IV)? I hope the next Georgia Bulldog mascot is one of the bulldogs raised by OutKast. Georgia is going to need Uga's help because they'll be playing without star quarterback D.J. Shockley, and I'd be shocked if they can still pull one out. (Wow, that was shameless.) "The World's Largest Cocktail Party" will go on, but by the time Florida is finished, the Bulldogs will be hung over.


Write a Letter to the Editor