Friday, October 28, 2005


Red and blue is the new black and white
For generations, lines have been drawn, segregating people from each other on grounds of color and gender. The "separate but equal" fight against black people in the first half of the 20th century is a perfect example of segregation based on a simple fact: black or white.
The black community has persevered and is now generally afforded the same luxuries as any other American community. Gender wars have also raged on for more than a century in the U.S., and women have fought an uphill battle to receive the rights given to them as citizens. [Read article]



Targeting our children
When today's undergraduates were in elementary school, paper airplanes, toy guns and harmless pranks were part of the territory.
We played Red Rover on the playground; jungle gyms were sites of intricate power struggles. Teasing was rarely kind, and "fair" was in the eye of whoever held the four square ball. We played hard and fell hard. But the playground is a different place these days.
Today's zero-tolerance policies in all their myriad forms play a certain role in bringing about a drop in crime, making schools safer, cleaning up public transport and determining terrorist threats. [Read article]



Grand old failure
Stories of prominent Republican demises abound. The GOP leaders of both bodies of Congress stand accused of financial misbehavior. The onceproud White House is being taken to the woodshed amid repeated accusations of incompetence and cronyism and now over Harriet Miers' withdrawal. It makes me elated to finally see this justice play out against the people who have perpetuated injustices and lies on the American people for so long. [Read article]



Pass/fail: See if these ideas make the grade
Don Quixote and a senator's quest
You've got to hand it to them - the Associated Students of the University of Arizona have an uncanny knack for thinking hard about the kind of issues that, well, no one's really thinking about. Take, for example, Sen. Lexie Ettinger's quest to have articles in the Arizona Daily Wildcat translated into Spanish. Aside from the fact that she somehow hoped to do this without consulting the Wildcat, the need for this particular program seems dubious at best, especially in light of tuition hikes and class shortages. Maybe it's best that members of ASUA will be attending that leadership seminar in Denver; at least they'll be preoccupied enough to keep from swinging at windmills down here in the Old Pueblo. Until Ettinger comes up with something better, the Wildcat plan gets a Fail. [Read article]



Mailbag
Seniors unable to graduate don't deserve pity, classes
I'm writing in response to the article in Tuesday's Wildcat about journalism seniors not being able to get classes ("Seniors unable to graduate"). I am currently on track to graduate in four years, to the surprise of my family and most who know me. How is this possible? I did everything that I needed to do to get all my classes. This meant being at the Marshall building at 4 in the morning a few weeks ago. [Read article]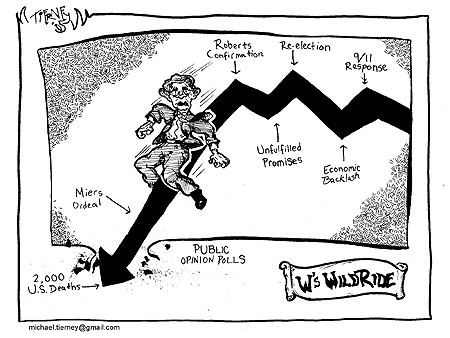 showAds('bigbutton')?>







showAds('mediumbutton')?>

showAds('wildlinks')?>