Monday, October 31, 2005

UA suicide rates steady
Union death investigated as first suicide of year
The UA student whose body was found last week in the basement of the Student Union Memorial Center is being investigated as a suicide and is the first reported suicide of the year at the UA.
Gregory Thomas Bauer's body was discovered around 6 a.m. Wednesday near Wilbur's Underground, and he was pronounced dead at the scene.
Prior to this incident there were no reported suicides at the UA this semester, police said. [Read article]



Dean put on leave after sex charges
A UA assistant dean who was arrested last week on charges of sexual conduct with a minor has been put on paid leave until the outcome of the trial is known, officials said.
Brian David Ebie, interim assistant dean of the College of Fine Arts and assistant music professor, was arrested Oct. 24 by the University of Arizona Police Department and is currently in Pima County Jail on a $100,000 bond. [Read article]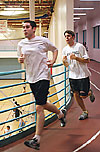 $25 Rec Center expansion fee up for student vote next month
Student Recreation Center administrators will leave the decision of expanding the Rec Center in the hands of students in next month's ballot vote.
Students will continue paying a $25 semester fee for admittance into the Rec Center through 2010 with no plans of extra costs to be associated with the project in hopes of its completion by 2009.
That fee will disappear in 2011 unless students vote "yes" on Nov. 15 and 16 to continue the fee to pay off bonds needed for the proposed expansion. [Read article]



Club raises awareness, money for Pakistan earthquake relief
The Muslim Student Association is working to increase awareness about the destruction of the recent earthquake in Pakistan after realizing how little students knew about the tragedy.
Club members have been collecting donations on the UA Mall for the past two weeks to be given toward relief efforts of the 7.6 magnitude earthquake that struck regions of India and Pakistan on Oct. 8.
While an estimated 80,000 people were killed and more than 3 million left homeless without food, water or shelter, the club members approached many students who were unaware these events ever occurred, said Justin Mashouf, club fundraising chairman. [Read article]




Campus Briefs: Residence halls and clubs to raise money for Project Solar
A student competition between residence halls and clubs kicks off today to raise funds needed for Project Solar.
The Solar Blitz campaign aims to involve students in raising money and awareness for the $40,000 solar panels that are planned to be installed on the UA Visitor Center, said Rhonda Tubbs, a student senator and an economics senior.
Solar Blitz is a joint effort between the Associated Students of the University of Arizona and Eclipse, the UA solar energy club, and is a combination of three competitions, said Tubbs, who is overseeing the fundraising effort. [Read article]



Quick Hits
'A' Store reopens today
The University of Arizona Students in Free Enterprise team is preparing for the "A" Store grand re-opening today. The "A" Store, located in the Tucson Mall, is a satellite location of the UofA Bookstores and sells UA-branded apparel and gifts.
The event, celebrating the store's expansion from 300 square feet to 600 square feet, starts Friday and continues through Sunday. There will be UA athletes on hand, percentage-off balloon popping contests, and a raffle for a football and softball signed by university athletes. [Read article]




Fast Facts
Things you've always never wanted to know




Halloween is on the last day of the Celtic calendar. Halloween was referred to as All Hallows Eve and dates back to more than 2,000 years ago.
The earliest Halloween celebrations took place among the Celts, who lived more than 2,000 years ago in where is now England, Ireland, Scotland, Wales and Northern France. The Celtic priests, called druids, used to honor Samhain, the god of the dead, on the evening of Oct. 31 and the day of Nov. 1. According to Celtic legend, Samhain controlled the spirits of the dead and could allow them to rest peacefully or make them go wild on this night.
[Read article]




showAds('bigbutton')?>







showAds('mediumbutton')?>

showAds('wildlinks')?>