Thursday, November 3, 2005


RED-BLUE GAME: New season, new skills
Cats hope practice pays off as position battles abound
After slightly more than two weeks of practices, the No. 9 Arizona men's basketball team is set to unveil its fast breaks, its pressure defense and a few entries to the highlight reel in the Pepsi Red-Blue Game tonight at 7 in McKale Center.
For many of the players, it's about time.
"We're ready to get some games going. We've had too much practice, six days a week," said junior center Kirk Walters. "We're all prepared, and we're ready to get the season going." [Read article]




Football Q&A: Spencer Larsen
Linebacker talks about successes after long layoff
If you notice someone with the Arizona football team showing more exuberance than usual during Saturday's game with undefeated No. 7 UCLA, chances are it is sophomore linebacker Spencer Larsen.
And who can blame No. 51 if he seems a bit giddy to be in action for Wildcats head coach Mike Stoops? He's waited three years for it.
Larsen played his first full game in an Arizona uniform Oct. 15 against Stanford after leaving Tucson for a Mormon mission in Chile in 2003. [Read article]



Commentary: Will mob rule rise again?
We will never be the Cameron Crazies. We will never sleep with Dick Vitale, share failed NBA stories with Bobby Hurley or discuss ACC basketball with Jay Bilas.
We'll never camp out two weeks in advance to face our in-state rival (even if ASU actually wins a game or two), walk outdoors with nothing on but body paint in below-freezing weather (we live in the desert, baby!) or set up sleeping bags outside McKale Center. [Read article]



On the air
A sampling of what's on today
TALK
'NCAA Football'
Hosts: Ken Bever, Robyn McCarthy,
Victoria Yarnish
KAMP 1570 AM

kamp.arizona.edu
6 p.m.

TALK

'Dorm-Room Sport Chat'

Hosts: Jason Kleinman, Guido Murga, Michael Schwartz, Roman Veytsman

UATV Ch. 3 (dorm halls)
6:30 p.m.

CFB

ESPN College

Football Primetime

Pittsburgh at Louisville

ESPN
5:30 p.m. [Read article]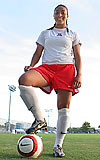 SoCal in their hearts
Soccer players ready for In-N-Out, shopping in O.C. on L.A. road trip
Depending on where you're driving from — and of course, that infamous Southern California traffic — Tucson is not terribly far from its neighbor state to the west.
But to the seven SoCal natives on the Arizona soccer team, Tucson might as well be on the other side of the world.
"It's a lot different here. There's a lot to miss (about California)," said sophomore midfielder-defender Nicole Scheid, of Mission Viejo. [Read article]



Women's golf takes fourth in Las Vegas
The Arizona women's golf team ended the Las Vegas Founders Collegiate Showdown in Las Vegas in fourth place yesterday.
The Wildcats shot an 8-over 296, dropping two places from their spot on the team leaderboard after the first two rounds.
"We got off to a great start by being under par for 12 holes, but then struggled," said Arizona head coach Greg Allen.
UCLA, sporting the tournament's first- and second-place individual finishers, ended at 24-under, 27 strokes better than runner-up Kent State. [Read article]



Dave's diary: Team brings 'A' game in practices as season nears
In this edition of Dave's Diary, David Bagga, a freshman walk-on this season for the Arizona men's basketball team, shares his thoughts on team camaraderie, having a locker next to Isaiah Fox and the team's lack of a "true center."
On Arizona's latest week of practice:
We're starting to get into game situations now. Before, we started out with basic scrimmaging, in a pick-up game sense. Now it's hard game situations. It's like, 'What are you going to do in this scenario? What are you going to do in that situation?' The intensity steps up more and more as each practice goes on. Guys are bringing their 'A' game every single day. [Read article]




RED-blue game analysis: Matchups to watch
The Red-Blue Game begins an Arizona men's basketball season that will showcase three well-known seniors with a supporting cast that altogether experts have ranked in the preseason national top 10.
What follows are five potential matchups to watch for in tonight's intrasquad scrimmage.
Powerful paint:
Kirk Walters vs. Mohamed Tangara
The junior center Walters enters the season with a considerably tougher task than anyone else on the team, filling the shoes of present New York Knick Channing Frye. [Read article]




showAds('bigbutton')?>







showAds('mediumbutton')?>

showAds('wildlinks')?>