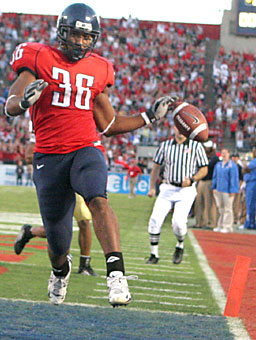 Jacob Konst/Arizona Daily Wildcat

Senior fullback Gilbert Harris heads into the end zone during the second quarter for the fourth of what would be seven Wildcat touchdowns. Harris finished with 113 of Arizona's 519 total yards of offense.

By Kyle Kensing
Arizona Daily Wildcat
Monday, November 7, 2005
Print this


Bell, Harris both surpass century mark rushing as Cats post season best

Mike Bell did plenty of carrying Saturday night in Arizona's 52-14 win over No. 14 UCLA.

The senior running back from Tolleson High School carried the ball 16 times for 153 yards and a spectacular touchdown that saw the Wildcats' leading rusher perform a full flip into the end zone.

But when it was all said and done, it was Bell who was being carried.

A small group in the mob that rushed the Arizona Stadium field at the completion of Saturday's game hoisted Bell and carried the senior away in triumph, a show of appreciation for his outstanding performance.

The Arizona offense went for a season-best 519 yards against a team ranked fifth in the Bowl Championship Series ratings, including 315 rushing yards.

Chewing up yardage

Arizona, led by senior running backs Mike Bell and Gilbert Harris, racked up 315 rushing yards against UCLA on Saturday.
Gilbert Harris - No. 366-foot-2, 223 lbs.
San Antonio
2005 stats
(through 9 games):
70 carries, 274 yards (3.9 per),
5 touchdowns
Mike Bell - No. 116-foot-1, 218 lbs.
Phoenix
2005 stats
(through 9 games):
157 carries, 798 yards (5.1 per),
4 touchdowns
"The running backs were tremendous," said Arizona head coach Mike Stoops. "We challenged our running game all week, and they really ran downhill."
Bell and fellow senior running back Gilbert Harris exploded from the Arizona backfield all night, combining for two touchdowns and 266 yards.
"We knew if we came in and did our part, we could run the ball against (the UCLA defense)," said Harris, who finished with 113 yards and a touchdown on 16 carries. "We worked hard all week, and we just came out and executed."
"We put up 52 points. I don't think we've ever put up 52 points in the time I've been here," Bell said.
Though Arizona did post 52 points against California during Bell's freshman year, Saturday's performance was arguably the most dominating offensive outing an Arizona team has had since it last reached a bowl game in 1998.
And it was a team effort.
"We worked together as a unit," he said. "We eliminated the little mistakes, and once we did that, I knew we'd play a good game."
Despite coming into the game ranked last in the Pacific 10 Conference in rushing offense at 97 yards per game, Arizona ran the ball at will, thanks to impressive play from the offensive line.
"The offensive line did a great job all night," Harris said. "They made big holes for me, Mike and (sophomore) Chris (Henry), and fortunately we were able to break some tackles and go."

It happened so fast. I just remember there was one dude, and I left my feet and it just felt good. — Mike Bell,on his touchdown flip

For 60 minutes, the line created gaps big enough for a locomotive, as Harris and Bell broke off big run after big run.
"It's a lot different feeling when you're running untouched," Bell said. "The offensive line did a great job, and I commend them."
Harris said the offensive line's work gave the Arizona running tandem a sense of near-invincibility.
"There was a point where we felt like we couldn't be stopped," Harris said.
Harris reached the end zone in the second quarter on an 18-yard scamper, going nearly untouched on an off-tackle play, while Bell scored a quarter later.
Bell's 8-yard touchdown was accented with a front flip over a would-be tackler.
"It happened so fast. I just remember there was one dude, and I left my feet and it just felt good," Bell said with a laugh.
Accolades for the incredible score aside, Bell and Harris were integral in the upset rout, complementing freshman Willie Tuitama's two passing touchdowns and the stellar play of Arizona's defense.
In the end, Bell said, Saturday's win is one people will remember as a turning point for Arizona football.
"We're about to win out. It's going to be a new tradition for Arizona football," he said. "I see nothing but a good future for this school."


Write a Letter to the Editor