Tuesday, November 10, 2005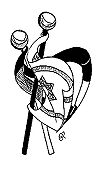 Mideast peace unreachable with these attitudes
If I hadn't read it with my own two eyes, I wouldn't have believed it.
Two weeks ago The New York Times reported that Iran's new president, Mahmoud Ahmadinejad, told an anti-Zionist student rally that Israel "must be wiped off the map."
Something tells me he's probably not going to be getting many Hanukkah gifts this year.
If there was any doubt before Ahmadinejad's remarks that anti-Semitism is alive and kicking in the Arab world, there should be none now. His remarks were not an extemporaneous aberration but were actually a concise and unfortunately accurate summary of Arab attitudes toward the Jewish state. [Read article]



Journalism faces tough decision
Paul Johnson had no other options. Faced with 12 seniors who would not be able to graduate because they couldn't get a seat in a required course, the senior academic adviser for the department of journalism sent out a desperate plea.
"I am appealing to those of you who don't need the course immediately to give up your seats so others can graduate on time," his e-mail asked.
Predictably, his e-mail only generated three kind souls, and without a drastic event, the journalism department will once again fail to graduate all of its students. [Read article]



Writing in the margins: The American 'Nobility'
The issue of social division in our country has always been a topic of intense discussion and debate among pundits, legislators and activists alike. Many are pointing to the government's reaction after Hurricane Katrina to illustrate how deep social divisions really go.
Some say the government's slow response for aid showed a succinct racial bias that is still alive and well in the U.S. Others blame partisan differences. Still others believed it was the root cause of a much bigger picture. [Read article]



Pass/fail: See if these ideas make the grade
The pitfalls of parking
Sure, it's nice to see that construction on the corner of East University Boulevard and North Park Avenue has finally begun, but the loss of parking spots along the north side of the street has brought a bigger issue to the forefront: The ridiculous parking situation on University Boulevard. As evidenced by the hundreds of fender-benders and unaccounted-for scrapes, scratches and dents along the sides of students' cars, driving around campus has become something of a contact sport (all of which makes the back-in parking along University Boulevard dangerously amusing). For a group of students who spent the better part of an hour attempting to take down concrete-anchored goalposts, one would think that backward motion is a pursuit best left to the professionals. For this lack of foresight, the University Boulevard parking situation gets a Fail. [Read article]



Mailbag
Sex toys shouldn't bump real news from the headlines
This is probably going to get me into a bit of trouble, but some things just have to be said. I was shocked and appalled by Monday's cover story, "Feminists advocate self-love," though not for the reasons one might think. I understand that sex sells, and us sitting here in a bubbling Crock-Pot of hormones (better known as a "university") as we are, anything sex-related is going to have a prominent place in any student-focused media. On a related note, I see that we're also the No. 6 hookup school in the country - a point of pride, to be sure; but I know that if we really try, we can be No. 1 in debauchery. Go Cats! [Read article]




showAds('bigbutton')?>







showAds('mediumbutton')?>

showAds('wildlinks')?>