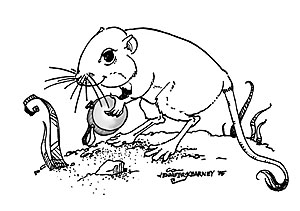 Illustration by Jennifer Kearney

Arizona Daily Wildcat
Monday, November 14, 2005
Print this


Things you've always never wanted to know
Some species of freshwater eels migrate to the Sargasso Sea in the Atlantic Ocean to mate. After laying up to 20 million eggs, the female eel dies. The baby eels hatched from the eggs then make their way back to fresh water.
Americans today consume nearly the same number of calories per day as Americans did in 1910, but the weight of the average American has increased substantially because of lack of exercise.
Americans spend more than $630 million a year on golf balls.
Before he became famous for his TV comedy work, the late Phil Hartman worked as a talented and respected graphic designer. In fact, he was the designer of the logo for Crosby, Stills, Nash and Young.
Eighty percent of the world's food crops are pollinated by insects.
The last dictionary that Noah Webster wrote contained 70,000 words and their meanings. He wrote it with no help and by hand. After his death, his family sold the right to publish to G&C Merriam and Co.
An average of 51 cars a year overshoot and drive into the canals of Amsterdam.
Soy milk, the liquid left after beans have been crushed in hot water and strained, is a favorite beverage in the East. In Hong Kong, soy milk is as popular as Coca-Cola is in the U.S.
More than 110,000 marriage licenses are issued in Las Vegas each year. There are no blood tests and no waiting period required. The Marriage License Bureau is open from 8 a.m. until midnight, Sunday through Thursday and 24 hours a day on Friday and Saturday. The most popular wedding days are New Year's Eve and Valentine's Day. Settings range from casino/hotel wedding chapels to helicopter ceremonies high above the Las Vegas "Strip," or for those in a hurry to start the honeymoon - there are even drive-up wedding chapels.
Kangaroo rats never drink water. Like their relatives, the pocket mice, they carry their own water source within them, producing fluids from the food they eat and the air they breathe.


Write a Letter to the Editor









showAds('bigbutton')?>

showAds('mediumbutton')?>

showAds('wildlinks')?>