Monday, November 14, 2005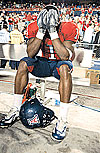 Errors hound Cats in letdown loss
Huskies reel off 24 unanswered second-half points in mauling of turnover-prone Wildcats
Success in the areas that contributed to the Arizona football team's wins the last two weeks didn't show up Saturday night in the Wildcats' 38-14 loss to Washington at Arizona Stadium.
Arizona (3-7, 2-5 Pacific 10 Conference) turned the ball over five times, lost the line-of-scrimmage battle, got outrushed and freshman quarterback Willie Tuitama finally looked like a freshman. [Read article]




Miller goals lift soccer to first Sweet 16 berth
Midfielder-forward Mallory Miller of the Arizona soccer team simply refuses to allow her senior season and record-breaking college career to come to an end.
After being named the Pacific 10 Conference Player of the Year on Thursday, Miller scored a goal in each of the Wildcats' first- and second-round games of the 2005 NCAA College Cup held in Salt Lake City.
Her goals were the deciding scores in a pair of 1-0 victories against Utah and Weber State, sending the Wildcats to their first Sweet 16. [Read article]



Cheseret leads charge to win
Domination was the key word Saturday in Palo Alto, Calif., as the No. 9 Arizona men's cross country team took first place at the NCAA Western Regional.
The Wildcats placed four runners in the top six places for the 10,000-meter race and finished with a total of 33 points, easily ahead of No. 4 Stanford (80 points).
Arizona's win put an end to Stanford's streak of 10 consecutive NCAA Western Regional titles and also earned them an automatic berth to the NCAA Championships in Terre Haute, Ind., on Nov. 21. [Read article]



Top Cats
The best of the weekend's athletic performances
Cross Country: Robert Cheseret
Junior, Won 10,000-meter race at NCAA Western Regional to boost Arizona to team title
Soocer: Mallory Miller
No. 5 • Midfielder-forward Scored game-winning goals in Arizona's first- and second-round postseason wins [Read article]



Volleyball nets Stanford sweep
There was no doubt the odds were stacked against the No. 6 Arizona volleyball team on Friday night against No. 4 Stanford.
The Wildcats entered the match 1-25 all-time at Maples Pavilion, and the last time Arizona defeated Stanford twice in one season was in 2000.
Arizona managed to put expectations aside and defeat the Cardinal in five games (30-26, 17-30, 30-22, 26-30, 18-16) in Palo Alto, Calif., to complete the season sweep. [Read article]




Cats drub Skyhawks
The Arizona women's basketball team routed Division II Fort Lewis College 86-55 Friday night in McKale Center in the team's final exhibition game.
Turnovers once again swayed the game to the Wildcats' side, as their constant defensive pressure forced the Skyhawks into 31 giveaways, the same number registered by Cal Poly Pomona on Nov. 6.
"We wear teams down," said Arizona head coach Joan Bonvicini. "It's not always that you get turnovers from your press, but because you're putting that kind of defensive intensity on people, it just wears them out, and then we're able to blow the game open." [Read article]



Weekend Sports Roundup
PG Bayless chooses Arizona over Texas
PHOENIX - Jerryd Bayless, the highest-ranked basketball recruit from Arizona since former Wildcat Mike Bibby, committed to play for Arizona during a press conference Friday afternoon at St. Mary's High School in Phoenix.
A 6-foot-3, 190-pound junior combo guard, Bayless had narrowed down his choices to Texas and Arizona before deciding to stay in-state and become a Wildcat. [Read article]




Analysis: Huskies' running game shuts down Wildcats
To call Washington quarterback Isaiah Stanback's 69-yard first-half-ending hurl to wideout Craig Chambers important is an understatement.
With Arizona leading 14-7 with less than 10 seconds remaining before halftime Saturday, Stanback deflated what little momentum the Wildcats had built in a matter of one pass.
"You could see the momentum change with that play right there," said Arizona sophomore cornerback Wilrey Fontenot. [Read article]




Icecats pummel 49ers
If the Cal State-Long Beach men's club hockey team came into Tucson with hopes of moving up a division in the American Collegiate Hockey Association, it probably reconsidered them on the ride back home.
The No. 13 Arizona men's club hockey team swept the 49ers over the weekend, following a 4-2 win on Friday with a 14-2 bashing Saturday night in the Tucson Convention Center Arena.
Those things certainly fell freshman forward Robbie Nowinski's way Saturday night as the Icecats scored 30 seconds into the game and didn't slow down until the final buzzer. [Read article]




showAds('bigbutton')?>







showAds('mediumbutton')?>

showAds('wildlinks')?>