Monday, November 14, 2005


Fueling the Bush crazy train
"Gimme blood. Gimme blood. Gimme blood pollution." Wow, are those lyrics to a Steel Dragon song or a good summary of President Bush's terms in office? I'm having a hard time distinguishing between the two.
The Bush administration's foreign policy stance has been wanting over the past six years. First, it tells the international community to shove it, causing enormous rifts in alliances dating back decades. [Read article]



War on terror? U.S. still fighting that, right?
In the days following Sept. 11, 2001, the talking heads declared the Long Decade dead. The 1990s, those carefree years generously sandwiched between the fall of the Berlin Wall in 1989 and the abhorrent attacks of 2001, were stolen from us in the skies of a cloudless Tuesday morning. In its place, the Long Decade gave way to the Age of Terror.
It sounded good to me then, too. But four years removed from Sept. 11, I'm still not terrified. What happened to our Age of Terror? [Read article]



Mailbag
Tucson city elections deserved better coverage in Wildcat
Today is just the day of disappointments, isn't it? I woke up this morning disappointed over Tucson defeating itself in the City Council elections. I was disappointed because the cat attacked the roll of paper towels during the night again.
I then go to see what the Arizona Daily Wildcat has to say about the election only to see a quick blurb under the "Quick Hits" section. On the front page you have a big article on Mexican graduate students, poetry and a local band, all of which get more attention than an election that will have a great effect upon the UA student body for the next two years. [Read article]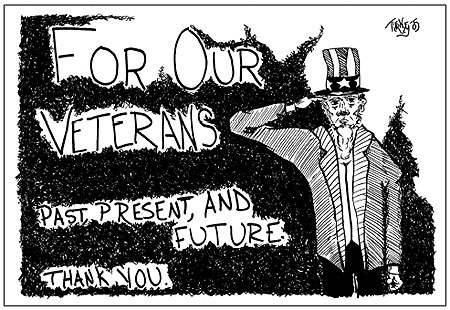 showAds('bigbutton')?>







showAds('mediumbutton')?>

showAds('wildlinks')?>