Tuesday, November 15, 2005


Football notes: Willie's first wobbles
After Husky thumping, frosh phenom Tuitama focusing on Devils
The pedestal was built so high, one couldn't help but feel that when freshman quarterback Willie Tuitama finally did have a bad game, it would be a long fall.
Tuitama suffered his worst outing in four appearances on Saturday at Arizona Stadium, throwing three interceptions and losing two fumbles in the Arizona football team's 38-14 loss to Washington. [Read article]




Highly rated recruits have Bonvicini in '07 heaven
Recruiting class adds sister acts, much-needed height
Phoenix prep star Jerryd Bayless was not the only athlete to commit to Arizona basketball this weekend.
The Arizona women's basketball team has signed five recruits to national letters of intent for the 2006-07 season, including two different sets of twins, both of whom are the first in program history.
"Potentially, this is the best recruiting class we've ever had," said Arizona head coach Joan Bonvicini. [Read article]



From the booth: Was that the same team?
Ten days ago, the stands at Arizona Stadium emptied with three minutes to go in the fourth quarter.
Over the weekend, they emptied at right around the same time, and for a different reason.
Ten days ago, madness - of the pandemonium sort - filled the air surrounding the Arizona campus.
On Saturday, a different type of madness followed the Wildcats into their locker room - that of head coach Mike Stoops. Along with it came downheartedness, listlessness and sluggishness (the latter two seen during the actual game). [Read article]



On the air
A sampling of what's on today
Talk: 'Sports Fire'
Head-to-head sports debate - Hosts: Adam Green and Joe Rabinowitz
KAMP 1570 AM kamp.arizona.edu - 6 p.m.
Football: College Primetime
Bowling Green State vs. Miami (Ohio)
ESPN2 - 5 p.m.
M-Hoops: 2005 NIT Season Tip-off
New Mexico State vs. UCLA
ESPN2 - 8 p.m. [Read article]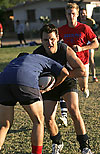 Ruggers notch 30th straight win over ASU
Devils winless in last 21 seasons against UA
The Arizona men's club rugby team defeated ASU 38-24 on Sunday in Tempe, the Ruggers' 30th consecutive victory over 21 seasons against the Sun Devils.
Wing Travis Frenzel and halfback Doug Hood each had two tries for Arizona (3-0), which almost squandered a late 14-point lead.
With the score 26-12 and time winding down in the second half, ASU center Chris Margaret intercepted a pass by the Ruggers' Matt Buppert and returned the ball 99 yards to cut the Ruggers' lead to 7. [Read article]



Fireballer, slugger among UA softball's '07 recruits
The Arizona softball team signed four athletes to national letters of intent for the 2007 season, head coach Mike Candrea announced yesterday.
The class is headed by Amanda Williams of Brentwood, Calif., who is expected to help replace Wildcats senior pitcher Alicia Hollowell in the circle next season.
Williams plays for the Orange Country (Calif.) Batbusters, a girls' fast-pitch softball team whose alumnae include former Arizona All-America selections Jennie Finch and Toni Mascarenas, and current Wildcat pitcher Taryne Mowatt. [Read article]



Senior set to shoulder load
Diver Manning overcame injury to make waves
In her final season with the Arizona women's diving team, senior Tiffany Manning has gone through a lot more than just the motions to get to this point.
She redshirted last season after transferring from Florida State but couldn't compete because of a shoulder injury she sustained in April 2004.
She has been rehabilitating ever since, trying to get back into her peak form so she could dive again. [Read article]




showAds('bigbutton')?>







showAds('mediumbutton')?>

showAds('wildlinks')?>