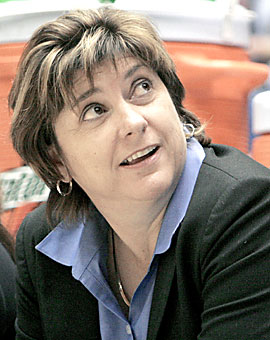 Claire C. Laurence/Arizona Daily Wildcat

Arizona women's basketball coach Joan Bonvincini smiles during the team's 20-point win over Cal Poly Pomona at McKale Center on Nov. 6. Bonvincini lauded the Wildcats' incoming recruits for the 2006-2007 season, including the program's first set of twins.

By Michael Schwartz
Arizona Daily Wildcat
Tuesday, November 15, 2005
Print this


Recruiting class adds sister acts, much-needed height

Phoenix prep star Jerryd Bayless was not the only athlete to commit to Arizona basketball this weekend.

The Arizona women's basketball team has signed five recruits to national letters of intent for the 2006-07 season, including two different sets of twins, both of whom are the first in program history.

"Potentially, this is the best recruiting class we've ever had," said Arizona head coach Joan Bonvicini.

It would be an understatement to say that this class brings what the Wildcats need most: height.

While no healthy player on the Arizona roster stands over 6-foot-1, Beatrice Bofia is 6-foot-7, and her twin sister, Suzanne, stands 6-foot-6.

Fullerton, Calif., prospects Rheya Neabors, a 6-foot-2 forward, and her twin Rhaya, a 6-foot-1 forward, and Las Cruces, N.M., guard Marie McGee round out the class.

"We needed size. Obviously we're a lot shorter this year," Bonvicini said. "My thing was to get good people. Good players, good people, good students, and they're all very good students."

Bonvicini said the Wildcats signed every player they recruited.

She said many people were involved in the recruiting process, including Arizona President Peter Likins, athletic director Jim Livengood and senior associate athletic director Chris Del Conte, especially with the Bofia twins.

Current Wildcats also figured largely in the equation, particularly freshman center Amina Njonkou, who like the Bofias hail from Cameroon, Africa.

Arizona's going to be a force to be reckoned with next year.
- Ashley Whisonant, sophomore guard

"Amina's kind of funny. She kind of bosses them around, and she's the youngest one," said senior guard Natalie Jones. "It's kind of how if my little sister was here, how I'd tell her what to do, boss her around. It's just funny how they interact with each other."
"When they get around each other, it's kind of like three sisters," said sophomore guard Ashley Whisonant.
On their recruiting visit, one of the Bofias dunked off to the side during a scrimmage with current Arizona players, impressing them all.
Bonvicini said they are the real deal and that they will shock many people.
"It's legitimate height, (and they're) very, very skilled," she said. "I've never had players, (from) our own team after they played with them, come up to the office and (say), 'We need these girls. They need to be on this team.' Not just because of their athletic ability, how good they are, but just personality. We're just really pleased with this whole group."
Jones said she wishes she would have a chance to play alongside the recruits.
"I wish I was a junior right now," she said.
The Bofias played in the 2003 Olympic qualifying tournament with the Camerounian national team.
As junior-college transfers from Illinois Central College, their team placed second in their division, and Suzanne was named to the all-tournament team.
The Neabors are both two-time Freeway League first-team selections and have been named to every all-tournament team the last two years.
Rheya is ranked No. 31 overall by the Blue Star Report, which ranks the nation's women's high school basketball players, while Rhaya is No. 56.
"Their team won the state title in California (and) should be ranked in the top five in the country," Bonvicini said. "They could play anything literally from the post - which they won't in college but they could - to a wing to point guards."
McGee won a 2004 state championship and has been an all-district and all-state honorable mention selection.
"Marie McGee's a great athlete (and) outstanding player from Mayfield," Bonvicini said. "(She's) very versatile. We've been recruiting her for a few years."
While the Wildcats will rely on quickness and athleticism against taller teams this year, they will find themselves on more equal ground next season thanks to the pair of twins.
"Everyone was like as soon as we saw (the Bofias) play, 'Oh, we've got to get these girls. Get them the upcoming year, we'll be set,'" Whisonant said. "Just having them and the Neabors, and then the team that we have now, Arizona's going to be a force to be reckoned with next year."


Write a Letter to the Editor