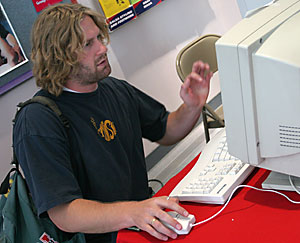 Jake Lacey/Arizona Daily Wildcat

Benjamin Shapiro voted yesterday on the proposed $25 fee to fund the Rec Center's future expansion.

By Zach Colick
Arizona Daily Wildcat
Wednesday, November 16, 2005
Print this


About 800 students cast their votes yesterday on whether to expand the Student Recreation Center, but which way students are leaning won't be known until all the ballots from today are counted.

Tyler Carrell, elections commissioner, said final numbers of students that voted and what the outcome is so far cannot be released because of legal issues within the parameters of the elections code.

"Simply because of the precedence carried on from previous elections, I unfortunately do not have the luxury of releasing such information at this time," said Carrell, a finance junior.

But to make sure the voting process is fair, Carrell said, guidelines for Rec Center administration have been set and handled professionally.

In addition to removing signs influencing students to "exercise their vote," Rec Center personnel were also restricted from handling or being near the computer voting booths set up inside the Rec Center lobby, Carrell said.

Rec Center administrators said the guidelines were part of election procedure, and they have no opinion about whether they want the referendum passed, said Juliette Moore, director of campus recreation.

"We're hoping students come out and voice their opinion just like in any other election," Moore said.

Regardless of the outcome, Student Body President Cade Bernsen said he's glad students have the opportunity to vote in favor or against a matter which could benefit future UA students, and to show the administration students care about the issues impacting them by voting.
Image courtesy of campusrec.arizona.edu
While understanding both sides of the issue, Bernsen admits there's a difference of philosophy between students who want the expansion versus those who don't use the facility and question the motives of expanding it.
But some students said voting in favor of the resolution ensures the same opportunities given to them will be there for future students.
"We're paying $25 now, so why not continue it and enhance what has already been provided to us," said Geoff Balon, a psychology sophomore. "Having an expanded Rec Center would definitely be a bonus for our school."
With lines snaking outside the Rec Center weight room during peak hours in the afternoon and early evening, Bernsen said voting "yes" to the expansion would ensure more students would have a guaranteed place to work out.
Expanding the facility would also create a more collegiate atmosphere, rather than having students be forced to go off campus to find more efficient ways to exercise, Bernsen said.
"It would be an investment for the future," said Bernsen, a political science senior. "We're all very busy people and have other priorities to tend to. Waiting in line for 30 minutes or more to get what you need to get done doesn't cut it in my mind, and so I pay a little bit more but it saves me time."
Chris Donahue, a marketing senior, agreed with Bernsen and said he voted in favor of the expansion because the reputation and esteem the Rec Center carried was one of the reasons he chose to come to the UA.
"The size really impressed me the first time I was inside," Donahue said. "Our school is regarded for its Rec Center, and I know it's definitely going to attract more students."
Donahue said the lack of activities like a climbing wall, the possibility of a new basketball court and the nature of the pool constantly being overcrowded were some of the other reasons he voted yes.
Students who missed the opportunity to vote yesterday can vote today until 8 p.m. on whether to extend the $25-per-semester Rec Center fee past 2011 to pay for an expansion.
If the majority of students vote yes, the fee remains and additions to the Rec Center will be made, such as a 32,000-square-foot weight room, leisure pool, climbing wall and sand volleyball court.
If the majority of students vote no, the Rec Center fee will end after 2011 and there will be no expansion.
Votes can be cast online through Student Link or at one of the computer stations set up by the Canyon Café and Bistro coffee shop outside the Student Union Memorial Center or in the Student Recreation Center lobby.


Write a Letter to the Editor