Wednesday, November 16, 2005


Arizona tuning up for regular season against Team Georgia
The Arizona men's basketball team has had weeks to prepare for the start of the 2005-06 regular season, and the final touches will be made tonight when the Wildcats take on Team Georgia in McKale Center today at 7 p.m.
"I think this is a perfect team for us to play," said Arizona head coach Lute Olson. "It will give us a good read on what we're doing and what kind of adjustments we'll have to make before playing Kansas next Monday." [Read article]




Football Notes: Humbled Cats set sights on Sun Devils
The Arizona football team will have two weeks to prepare to meet in-state rival ASU at Sun Devil Stadium on Nov. 25, and the Wildcats are hoping they learned a lesson from their 38-14 loss to Washington on Saturday at Arizona Stadium.
"It was a great win (52-14 against UCLA on Nov. 5), but I think we took it for granted, and we can't go out like that," said senior running back Mike Bell on Saturday. "You can't get a big head. You've got to stay humble no matter what." [Read article]



A slice of bacon: A tale of two cities
The initial thought you get when you decide to pursue your education at a fine institution like the UA is that you are, for the first time, given free reign to do pretty much whatever you want.
You can drink on a Sunday night, you can get a job at Greasy Tony's if you feel the need or you can take those random trips over the weekend that rack up miles and memories.
Over the weekend, for my (I'm shaking as I type this) 22nd birthday, two of my best friends and I buckled into my Chevrolet Trailblazer and headed east to College Station, Texas. [Read article]



On the air: A sampling of what's on today
[Read article]




Dave's Diary: Wildcats keeping focus against lesser teams
In this edition of Dave's Diary, David Bagga, a 6-foot-4, 175-pound walk-on this season for the Arizona men's basketball team, shares his thoughts on seeing floor time against Sonoma State, his pregame ritual and opening his college career in Hawaii.
On getting into the team's exhibition game against Sonoma State on Nov. 9:
It was so cool. It felt really good to get in there and get the support of the crowd behind you. It was really a great experience. [Read article]



Volleyball recruits sign letters of intent
As the No. 6 Arizona volleyball team prepares to say goodbye to its four seniors Saturday on Senior Day, Wildcats head coach Dave Rubio is preparing for next season, signing two athletes to national letters of intent last week.
Ashley Hamilton, a setter out of Lone Peak High School in Utah, and Jacy Norton, a middle blocker from Louisville, Ky., will join the Arizona roster next season.
Hamilton helped lead the Knights to the 4A state championship match on Nov. 5, but Lone Peak was unable to pull out the win, falling to Pleasant Grove High School. [Read article]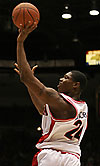 Basketball notes: Contract dispute keeps Team Georgia as foe
Until recently, most season schedules for the Arizona men's basketball team had the Wildcats playing the University of Alberta in tonight's exhibition game in McKale Center, but that will not be the case.
Because of a four-year contractual obligation, Arizona will face Team Georgia for the second straight season after winning 110-78 in exhibition play last year.
The NCAA has banned college teams from playing Amateur Athletic Union teams, but Arizona signed the contract before the rule was in place. [Read article]




showAds('bigbutton')?>







showAds('mediumbutton')?>

showAds('wildlinks')?>