Wednesday, November 16, 2005


Love, hate and Facebook
If you're not on Facebook.com by now, then you're either protesting it deliberately in an attempt to avoid doing what everybody else is doing, or you're afraid that stalkers will use it to come after you.
What started out as a simple way for university students to connect with one another online has now become a pillar of the college social scene.
Despite the fact that so many of us squander valuable study time in order to be connected to the dynamic social machine that is Facebook, it is in fact a valuable tool in a world that continues to perpetually thirst for information. [Read article]



Editorial: Battling Bush
"Voice or no voice, the people can always be brought to the bidding of the leaders. All you have to do is tell them they are being attacked, and denounce the pacifists for lack of patriotism."
— Nazi official Herman Goering at the Nuremberg trials
Even for the battle-hardened veterans, presumably accustomed to the bloody machinations of the fog of war, the scene must have been eerie.
President Bush, standing beneath a banner that read "Strategy for Victory," was delivering a Veterans Day speech that seemed neither strategic nor particularly concerned with victory. Indeed, in a desperate ploy to paint his critics as a danger to the United States' war effort, Bush has never seemed so defeated. [Read article]



Mailbag
Iranian president espouses hatred, not 'political squabbling'
I find it funny that someone who talks about injections of "stupid juice" thinks himself adequately informed to talk about Israeli-Arab politics. Scott Patterson, in his opinion piece "Fueling the Bush crazy train," makes it clear that he believes Iranian President Ahmadinejad's comment about blowing Israel off the face of the earth to be a mere case of political incorrectness. I myself find Patterson's notions of justified combat unfortunate. If the United States' war against Saddam Hussein isn't justified (which, perhaps, it isn't) how can he find Ahmadinejad's openly genocidal instincts toward Israel justified? [Read article]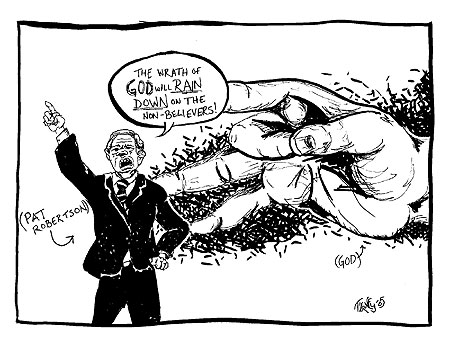 showAds('bigbutton')?>







showAds('mediumbutton')?>

showAds('wildlinks')?>