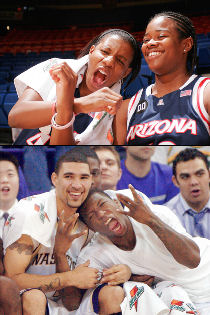 Top: Jacob Konst/Arizona Daily Wildcat
Bottom: Matt Lutton/UW Daily

Joy Hollingsworth top
Nate Robinson bottom

By Lindsey Frazier
Arizona Daily Wildcat
Thursday, November 17, 2005
Print this


Junior guard related to former Husky standout

For junior shooting guard Joy Hollingsworth of the Arizona women's basketball team, good hoops bloodlines run in the family.

Hollingsworth is the cousin of former Washington star and New York Knicks guard Nate Robinson, and her uncle Bruce Seals played professional basketball in the ABA for the Utah Stars and Seattle Supersonics.

While Hollingsworth and Robinson both stand 5-foot-9-inches, she claims to be a better shooter but said Robinson has an advantage over her when it comes to dunking.

"He thinks he's a better shooter, but he's not," she said. "Obviously, he has a little shot, but he learned a lot of stuff from me."

Last season, Hollingsworth was stuck on the Wildcats' bench, as she used a redshirt after transferring from San Francisco at the end of the 2003-2004 season.

"(It was) a very long (year) but I was very excited because I had the best seat in the house," she said. "If I had to do it all again, I would."

The team will be in need of Hollingsworth's services, as former Arizona point guard Dee-Dee Wheeler used her fourth and final year of eligibility last season.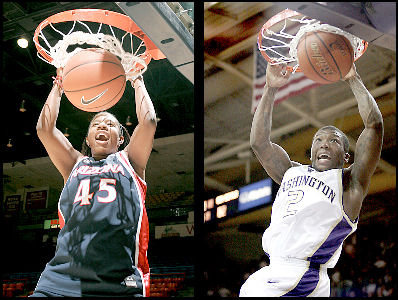 Left: Jacob Konst/Arizona Daily Wildcat
Right: Trevor Klein/UW Daily
Joy Hollingsworth left, Nate Robinson right
"I think she has a real good feel for the game," said Arizona head coach Joan Bonvicini of Hollingsworth. "She's a very good shooter, she's a good ball handler. And she's just a winner.
"She redshirted last year, which was difficult," Bonvicini added. "But by doing that, I think she had a really good idea of what it means to play here."
In her Wildcat debut in the team's Red-Blue Game Nov. 1, the Seattle native put up 16 points and seven rebounds in 37 minutes and is expected to contend for a starting position throughout the season.
"She's definitely in the running for a starting spot," Bonvicini said. "She's very vocal and she's fun."
Senior guard Natalie Jones agreed that Hollingsworth's natural abilities will make her a natural asset to the Wildcats.
"On the court, Joy's a very hard worker," Jones said. "She's a very good shooter. She's just one of those players - it's not so much nonchalant, but everything comes easy to her. You just watch her play, and everything just comes together."
Although she didn't play in a regular-season or tournament game last year, Hollingsworth still made her presence known, as she was named the squad's Most Inspirational Player.
"She's a very emotional leader," Bonvicini said. "She inspires everyone. She's the one who fires everyone up. She did it last year, and she'll do it again this year."
Jones said Hollingsworth provided much needed energy to an injury-ridden team and developed good chemistry with her teammates.
In addition to being a source of encouragement on the team, Hollingsworth is not afraid to poke fun at people - even Bonvicini.
Bonvicini recalled a time last season when Hollingsworth made fliers of her coach's choice in clothes and distributed them not only in the Arizona locker room but also throughout McKale Center.
"She found a picture of me that was here in the sports information office, and at the time I thought I was dressing pretty nice," Bonvicini said. "She begged to differ, and she's very creative, so she made up a picture of me and it said, 'Coach B's boutique, clothes for sale.' I thought it was pretty funny."
In her freshman campaign at San Francisco, Hollingsworth was named West Coast Conference Freshman of the Year for 2002-03 and an honorable mention Freshman All-American. In two seasons with the Dons, she averaged 10.8 points and 5.5 rebounds per game.
Although they share the same last name, Hollingsworth is not related to UA football player Marcus Hollingsworth, a junior safety.
"Everyone always asks me that," she said. "We just say 'hi' to each other, and he's my friend on the Facebook."


Write a Letter to the Editor