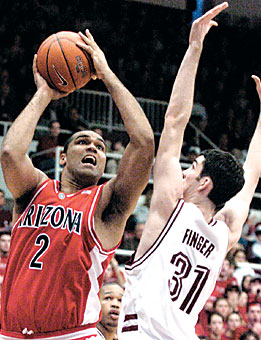 Chris Coduto/Arizona Daily Wildcat

Arizona's Isaiah Fox goes up for a shot over Stanford's Taj Finger during the first half of Arizona's 87-76 loss to Stanford in Palo Alto, Calif. on Jan. 8. Fox lost more than 25 pounds in the offseason and, if healthy, will bolster the Wildcats' deep frontcourt this year.

By Roman Veytsman
Arizona Daily Wildcat
Thursday, November 17, 2005
Print this


Fifth-year senior hopes to earn spot on starting lineup

It's been a rocky road, a roller coaster experience full of every high and low imaginable for fifth-year senior forward Isaiah Fox.

Coming in from high school more highly touted than Channing Frye, Fox was forced to deal with incessant pressure and made his share of mistakes.

There was the infamous bagel-and-candy-bar incident in 2003, when he was caught stealing from the U-Mart.

There was the suspension for violating team rules in 2004, a move rumored to have been related to Fox coming into the season out of shape.

And then there were the injuries, and not the kind that are easy to recover from. Fox underwent surgery on his left knee two games into the 2003-04 season and missed the rest of the year on a medical redshirt.

Then last season, Fox played limited minutes in a backup role, still hampered by pain and decreased mobility.

This season, Fox has come back to Tucson as what many in the program describe as a "changed man." It's been one long learning experience for the 6-foot-9 Santa Monica, Calif., native, and nearing the end of the ride, he has slowly come to a realization.

Player Profile

Isaiah Fox
No. 2 – Forward
6-foot-9, 255 pounds
Santa Monica, Calif.

"This being my senior year, you have to stay focused on what the team goals and your personal goals are, because this is your last chance to do it," Fox said. "I think that's what I've been taking in here every day, is that you're not going to get another chance to work hard today because tomorrow is a whole new day. Every chance you get on the court or in the weight room you have to leave it all in there and work your tail off."

Fox didn't become the "changed man" on a whim. The realization didn't just hit him upside the head all of a sudden.

He has lacked the consistency Arizona coaches have begged for, that which he so desperately craves for himself.

"I started some games last year and had some good games but couldn't stay consistent and that's my goal this year; to stay consistent and keep playing well," Fox said.

To attain his goal, Fox went to work over the summer with trainer Trent Suzuki, who also works with two Arizona commitments, Alex Jacobson (2007) and Chase Budinger (2006), among a number of present and former NBA players.

During a grueling seven weeks of workouts, Fox shed more than 25 pounds. On the first day of his training, Suzuki said Fox threw up three times and still came back for more in the afternoon session.

Fox and Suzuki worked with punching bags and did martial-arts training so Fox would get stronger but not add weight. It was that type of training that kept the workouts fresh, yet got Fox into the best shape of his life.

Fox also ran on the treadmill for nearly three hours a day, watched his diet and didn't spend his evening hours tapping kegs.

After that first day, he wanted to get in his car and drive back to Tucson, but he kept at it.

"I told him, 'If you come out here and give me lip, I'll send you home,'" Suzuki said.

Career Stats:

2004-05 (28 games): 2 points per game,
2.3 rebounds,
41.1 percent field-goal shooting

2003-04 (two games): 8.5 points per game,
6.5 rebounds,
80 percent field-goal shooting

2002-03 (31 games): 3.6 points per game,
3 rebounds,
54.5 percent field-goal shooting

2001-02 (33 games): 4.4 points per game,
4 rebounds,
48.1 percent field-goal percentage

Suzuki said there was never a problem of motivation because Fox knew he had to work hard to get his career back in order.

"You really had to push through any type of tiredness," Fox said. "It was a chance for me to work on my conditioning ... and just good for me to train in a different atmosphere with a guy who didn't know too much about me, but just wanted to train me and wants the best for me. It was good working out with him because it was just totally a new thing that I sank my teeth into, and it was fun."

Fox became dedicated to his craft, but it was something made possible by his subsiding injuries.

It was a Catch-22 for Fox, because being out of shape made him more prone to injury, yet he wasn't able to get in shape because the injuries prevented him from working out.

"They definitely played a part in it," Fox said. "It totally threw me off in terms of being a part of the team. Last year, it was a little bit nagging. It was hard that summer to work out and really get into it because there would be certain days where you couldn't walk the way you wanted because it would be nagging."

Now that Fox is in shape and "completely healthy," he said, he's ready to show what once looked like a promising future, when he started nine games and averaged 4.4 points his freshman year.

His numbers dipped his sophomore season, and slid even more as a redshirt junior last year, but after speaking with Arizona head coach Lute Olson, Fox said he believes he can raise the level of his game back to where it once was.

"Coach has told me that everyone has a chance to get in here and start," he said. "Just work your tail off, and that's what I'm going to try to do. I want to come here and start."

Part of starting and being on an Olson-coached squad is having a team-first attitude. Throughout his career, Fox said he has always maintained a close relationship with his teammates and never voiced any selfish complaints.

One of the most well-liked athletes on the team, he was voted co-most inspirational player of the year by his teammates last season.

"I think his attitude was always good," Olson said. "I'm sure he was disappointed with the way things went last year, but he knows that had more to with him than anyone else."

The key difference for Fox, he said, has been the adjustment in his self-discipline, rather than his attitude toward the team.

"You definitly get more mature and more prideful and more focused on what you're doing here in terms of basketball, academics and your social life," Fox said. "It's something where you grow as a person each year."

Coach has told me that everyone has a chance to get in here and start. ... I want to come here and start. - Isaiah Fox, senior forward

"He's being a really great team leader right now," said Arizona assistant coach Josh Pastner.
With playing time up for grabs, Fox hopes to re-emerge on the Arizona basketball landscape and get back to the player he had always hoped to be.
"I'm just really looking forward to having a good year," he said.


Write a Letter to the Editor