Jacob Konst/Arizona Daily Wildcat

Verdi's last opera 'Falstaff' follows an elderly man's dire attempt to make some cash when he tries his hand at being a gigolo. 'Falstaff' opens tomorrow night at 7:30 in Crowder Hall.

By Susan Bonicillo
Arizona Daily Wildcat
Thursday, November 17, 2005
Print this


It seems like the perfect vehicle for a romantic farce starring Jack Black, Kirstie Alley or some other overweight comedic actor. Here's the premise: An aging, portly man down on his luck and desperate for some green, tries his hand at the gigolo business.

Scouting out his prospective clients, being the ever-astute statistician, he tries to improve his chances of scoring a meal ticket by not just sending out one letter of seduction but two, both to women who reside in the same town. He also uses the same letter verbatim, recycling the same sweet nothings but being careful enough to switch names when appropriate.

Unfortunately for him (but fortunately the audience) our chubby Casanova's plans fall through, and the ladies aren't as dense as the would-be male prostitute would have them seem. Hilarity ensues, the ladies get their revenge and the villagers for the most part come out unscathed.

But this isn't the stuff of a knee-slapping, sex-charged, blockbuster comedy. This is opera. Specifically, the great Giuseppe Verdi's last opera "Falstaff," in which the action centers on the plump nobleman and knight Falstaff.

A recurring character in the works of Shakespeare, Falstaff is featured in the historical plays "Henry IV" and "Henry V" and in the comedy the "Merry Wives of Windsor." Falstaff has consistently provided a wealth of comedic relief in those pieces.

In this opera, which is based more on his character in the "Merry Wives of Windsor," Falstaff is played by music arts graduate student Nathan Krueger.

The sheer volume of the music proved challenging for Krueger but was also a rewarding experience for the baritone, who has been preparing for this role since last spring.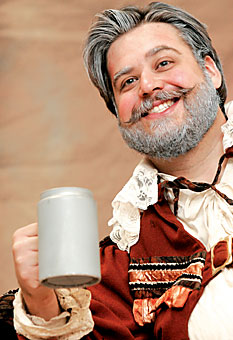 Jacob Konst/Arizona Daily Wildcat
Falstaff is a recurring character in the works of Shakespeare's "Henry IV" and "Henry V" and in the comedy the "Merry Wives of Windsor." Falstaff provides comedic relief in those works.
"It was very rewarding at the end of this time to sing it because it is an operatic masterpiece that doesn't get done all that often," Krueger said.
In Verdi's last opera, the format is quite different from his other pieces. Of his canon of 26 operas, only two were comedies. Arias, a staple within the opera world, are for the most part replaced by group singing.
Because of the musical demands, the ensemble cast had to work closely, but it was a process that Krueger found rewarding. He had worked with these singers before, and the work ethic and camaraderie among the performers was high.
"There is a lot of talent in this cast, and everyone has taken a personal effort to make it good," Krueger said.
One of these hard-working cast members is the Czech-born Martina Chylikova, a music graduate student. Chylikova - who plays Meg Page, one of the women Falstaff tries to seduce - relocated to Tucson in 1995 when her husband found work as an arborist.
Chylikova started on the piano at age 5 and moved to vocal performance during her teen years.
"I love comedies because the last opera that I did was so dramatic," Chylikova said. "It's a good change to try something more fun and light."
Operas may not be one of the events your average college student would attend, but Krueger assures that it won't be a stodgy night.
"It's an opportunity to see a major work of art at an affordable level done by preprofessional singers," Krueger said. "See this in a major city, it would be discouraging due to steep ticket prices."
Seeing "Falstaff," a work of art performed by fellow students, is a great opportunity to watch a story that has a lot of humor in it as well as hear some great musicians perform in a modern theatre, Krueger said.
Go exploit your status as a college student when you can get opera tickets for about the same price as a movie. The University Opera Theatre will show Verdi's opera "Falstaff" for only two performances tomorrow at 7:30 p.m. and Sunday at 3 p.m. Tickets are $15 for the general public, $12 for UA students and seniors, and $10 for students. Both performances will be in Crowder Hall in the Music building, 1017 N. Olive Road.


Write a Letter to the Editor