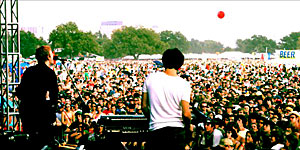 Photo Courtesy of Laura Gray

Spoon is playing the Grand Cayenne Music Festival in Mesa for those of us who are not cool enough or rich enough to attend Coachella this year. They will play Mesa Amphitheater on Saturday. The festival begins at 1 p.m.

Arizona Daily Wildcat
Thursday, November 17, 2005
Print this


Today

'A Perfect Ganesh' - The Live Theatre Workshop is putting on a production of the comedic and also tragic play that tells the story of two American women traveling around India. 7:30 p.m. $15, discounts available. Live Theatre Workshop. 5317 E. Speedway Blvd.

'Watermark' - Her pictures grace the opinion pages of the Arizona Daily Wildcat, and now they're coming to the student union. The opening reception of Jennifer Kearney's art exhibit is sure to make a watermark on your day. 6:30 p.m. Free. Student Union Gallery, third floor of the Student Union Memorial Center

Emergenza Music Festival - Local band Slowburn competes in the first round of the four day festival with a shot at playing in the championship round in Germany. 6 p.m. $10 ahead, $15 at door. Surly Wench Pub. 424 N. Fourth Ave.

Tomorrow

Black Heart Procession - This band makes the type of dysfunctional and extravagantly beautiful melancholy music that would fit perfectly in a David Lynch movie, or at least an episode of "Who's the Boss" if nothing else. With Tarantula AD. 9 p.m. $10. Solar Culture. 31 E. Toole Ave.

Movieoke - It's what would happen if you mixed a sleazy bar with "The Rocky Horror Picture Show" minus the half-naked singing people. Become the actors in your favorite movies by performing in front of them while they're playing. 9 p.m. Free, $5 suggested donation. The Loft Cinema. 3233 E. Speedway Blvd.

Chango Malo - Another great local band to entertain in your Friday night drunken stupor. Go for it! Camp Courageous, Manifold and Batter the Drag open. 9 p.m. $5. (21+). Club Congress. 318 E. Congress St.

Saturday

Band Day - If you love the sousaphone and piccolo, but not raucous football jocks beating each other up, you're in luck. Thirty high school marching bands are showcasing their skills with no disruptions whatsoever. Besides the color guard and pom-pom team of course. 8 a.m. to 7 p.m. $5, discounts available. Arizona Stadium

Grand Cayenne Music Fest - If you've gotten bored waiting for Coachella, this festival might be able to hold you over. Spoon, Apollo Sunshine, that one homely guy from Jimmy Eat World, Mates of State and more will all be there. 1 p.m. to 10 p.m. $19. Mesa Amphitheatre, 2635 N. Center St, Mesa

Holiday Craft Market - One hundred twenty of the Southwest's greatest artisans will be selling handmade pottery, jewelry, textiles, glass and many more things you'll probably shove in the back of your garage or the bottom of your filing cabinet. Tucson Museum of Art. 140 N. Main Ave.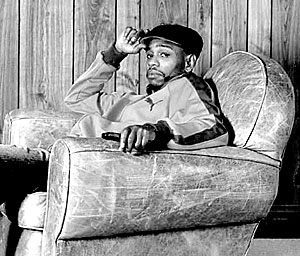 Photo Courtesy of Comedy Central
Good luck trying to get tickets to Dave Chappelle on Sunday at Casino Del Sol's AVA. Scalping is always an option. Perhaps he will reveal what really happened to him in Africa.
Sunday
Peace is Possible - The maharaji talks about how peace isn't enclosed in certain nations' borders but inside every human being. That's cool, but the only peace I have in me is the pie I ate this morning. Kiva Room. 3 p.m. to 4 p.m. Free. Student Union Memorial Center
Dave Chappelle - Do we really have to tell you about this guy? Just go for God's sake. It'll be funny. 7 p.m. $25 to $90. Sold out. Casino del Sol's AVA. 5655 W. Valencia Road
Monday
Deerhoof - This band sounds like a cross between Blonde Redhead and Bjork if she were rummaging through a candy shop on Neptune. No, Venus. Yes, definitely Venus. 9 p.m. $8. Solar Culture, 31 E. Toole Ave.
The Battle of Chile - If you're interested in Chilean history (who isn't, seriously), particularly the fall of Allende and the rise of Pinochet, you'll like this movie. More importantly, the film talks about how the U.S. was involved in the whole thing, probably so we can undoubtedly come out of it feeling bad about ourselves. 7 p.m. to 9 p.m. Free. Aerospace and Mechanical Engineering building, Room 202
Tuesday
Wind Symphony - If you just couldn't get enough of Ewan McGregor and that hottie who played Jar Jar the first time around, the Wind Symphony is performing music from Star Wars as well as some other unmentionables. With the Symphonic Band. 7:30 p.m. Free. Music building, Crowder Hall
Wednesday
Nashville Pussy - Unfortunately this is a metal band, and not the new attraction at Curves. Sorry guys. 9:30 p.m. $10 in advance, $12 day of show. Plush. 340 E. Sixth St.
-Compiled by Andi Berlin


Write a Letter to the Editor