Thursday, November 17, 2005


Game Day Guide
Men's basketball on TV

Commentary: Five questions for a talent-laden team
In his 23 seasons with the Arizona men's basketball team, head coach Lute Olson has shown he doesn't rebuild, he reloads.
On paper, Olson seems to have the weaponry he needs for success in 2005-06, but many questions still remain:
1. Who will fill the shoes of former center Channing Frye?
At first glance, the choice seems to be junior center Kirk Walters. Walters has gone from a skinny twig in his freshman year to a muscle-bound behemoth entering his third season. [Read article]




Man on a mission: Senior Adams set to fill leadership role
Unfinished business.
That's the reason
Arizona fans will still be able to enjoy the high-flying antics of senior forward Hassan Adams this season.
The Los Angeles native, whom many thought would choose to forgo his senior season following a stellar performance in the 2005 NCAA Tournament, has returned to Tucson for the 2005-06 campaign of Arizona men's basketball after deciding not to put his name into the NBA draft hat. [Read article]




Remembering 'Polkey': Bracelets, patch help honor center
She was their teammate. And she was their friend.
So, naturally, members of the Arizona women's basketball team don't need tangible reminders for someone they'll never forget.
But for everyone else who wasn't as close to the late Shawntinice Polk, who died from blood clots Sept. 26, plenty of ways to remember the former star center have become available this season, with some expected to carry far beyond the program's first year without Polkey. [Read article]



Commentary: Polkey's death shows life's fragility
I sometimes take for granted my opportunity to interview this fine athletic school's top athletes, getting to know the person behind that great competitor.
In my time on the Arizona Daily Wildcat sports desk, I've conversed with stars across the Arizona sports landscape: football's Willie Tuitama, baseball's Trevor Crowe and volleyball's Kim Glass, as well as small-sport studs like cross country's Robert Cheseret, tennis' Roger Matalonga and soccer's McCall Smith. [Read article]




Turning up the jets: Wildcats hope to push tempo to max
No more Salim Stoudamire and no more Channing Frye for the Arizona men's basketball team, after last season's two senior leaders became two NBA draft picks in April.
But despite their absences, Arizona head coach Lute Olson believes this year's squad will be just fine.
The Wildcats return 10 lettermen from last year, including senior forward Hassan Adams, senior guard Chris Rodgers and redshirt senior forward Isaiah Fox. [Read article]




Underclassmen underdogs: Guards play prominent role this year
The Arizona women's basketball team knew it was going to have to fill the shoes of one legend at the end of the 2004 season but never imagined it would have to occupy two vacancies.
But with the departure of point guard Dee-Dee Wheeler, who used her final year of eligibility last season, and the sudden death of senior center Shawntinice Polk on Sept. 26, the Wildcats had significant holes in their roster before the season ever began. [Read article]




A quicker fox: Trimmer Fox a 'changed' man to start final season
Fifth-year senior hopes to earn spot on starting lineup
It's been a rocky road, a roller coaster experience full of every high and low imaginable for fifth-year senior forward Isaiah Fox.
Coming in from high school more highly touted than Channing Frye, Fox was forced to deal with incessant pressure and made his share of mistakes.
There was the infamous bagel-and-candy-bar incident in 2003, when he was caught stealing from the U-Mart. [Read article]




On point: Whisonant, Jones to lead Cats' attack
As departed senior Dee-Dee Wheeler ran her last game as Arizona's point guard last season, there was only one thing her replacement could do this summer to fill the gaping hole. She went to school.
Point-guard school, that is.
With Wheeler gone after rewriting the Arizona record books, it's up to sophomore guard Ashley Whisonant to take the baton on the inbound pass.
"Ashley Whisonant is doing an outstanding job," said Wildcats head coach Joan Bonvicini. "I definitely feel she's ready and able to do an excellent job." [Read article]




Proving his point: Critics drive Shakur to succeed
Junior hopes to shake off inconsistent reputation
Critics, cynics and skeptics alike have taken their shots at junior point guard Mustafa Shakur almost since his first game with Arizona.
Shakur, who came to the Wildcats widely regarded as the nation's top-rated point-guard prospect in 2003, has heard it all about his first two years under the microscope.
"Nobody likes criticism, coaches don't - nobody does," said Arizona associate head coach Jim Rosborough. "But I think you understand as you come to a program like ours - and there are several others in the country - every loss people are going to take a look and see what's going on." [Read article]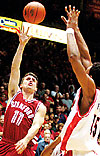 Men's Pac-10 preview
The Arizona men's basketball team was picked to win the Pacific 10 Conference for the fourth straight season, according to a preseason poll of media members.
What follows is a breakdown of each Pac-10 team (listed in order of predicted finish):
1) Arizona
2005 Record (Pac-10): 30-7 (15-3)
Conference Finish: First
Head Coach: Lute Olson, 23rd season
Returning Players: 11
Key Losses: Channing Frye (C): 15.8 points per game, 7.8 rebounds, 55.4 percent field-goal shooting last season; Salim Stoudamire (G): 18.4 points per game, 50.4 percent field-goal shooting, 50.4 percent 3-point shooting [Read article]




Shooting for a larger role: Back from NBA draft, Rodgers looks to start
When senior guard Chris Rodgers declared for the NBA draft over the summer, most people were stunned and confused.
Rodgers was not listed on any major pre-draft Web site, and news of his declaration was only publicly acknowledged locally.
That was the precise reason Rodgers decided he would throw his name out there - open himself up to NBA scouts and make his name known in league circles.
Because after all, the NBA is where Rodgers imagines himself being after this season. [Read article]



Men's and women's 2005-06 season schedules
Men's Season Schedule


All in the family: Hollingsworth born with basketball in blood
Junior guard related to former Husky standout
For junior shooting guard Joy Hollingsworth of the Arizona women's basketball team, good hoops bloodlines run in the family.
Hollingsworth is the cousin of former Washington star and New York Knicks guard Nate Robinson, and her uncle Bruce Seals played professional basketball in the ABA for the Utah Stars and Seattle Supersonics.
While Hollingsworth and Robinson both stand 5-foot-9-inches, she claims to be a better shooter but said Robinson has an advantage over her when it comes to dunking. [Read article]



Women's Pac-10 preview
The Arizona women's basketball team was picked to finish seventh in the Pacific 10 Conference this season, according to a preseason poll of media members.
What follows is a breakdown of each Pac-10 team (listed in order of predicted finish):
1) Stanford
2005 record (Pac-10): 32-3 (15-3)
Conference finish: First
Head Coach: Tara VanDerveer, 20th season
Returning players: Nine
Key losses: Kelley Suminski (G): 13.3 points per game, 2.7 rebounds, 3 assists last season [Read article]



Staff picks
How deep will the men's basketball team go in the 2006 NCAA Tournament?
Karla Gonzalez: Final Four, baby (a girl can dream). Um, is this a trick question? I've never seen a more solid team at Arizona with so much promising depth at each position and hardly any walk-ons (one, actually). Let's face it, Bagga is no Brase, but the departure of No. 30 did bring us hope in the new No. 30, freshman J.P. Prince. This is my fantasy (if 'Staf can't get it together this season like we're all praying he will): This Prince is lifted into the starting point guard position and leads the Wildcats to Indianapolis a la Mike Bibby in 1997. Freshman point guard plus veteran scorer equals magic. [Read article]




showAds('bigbutton')?>







showAds('mediumbutton')?>

showAds('wildlinks')?>