Thursday, November 17, 2005

Basketball Guide 2005: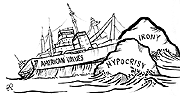 Banning gay marriage is an embarrassment given the tenets grounded in our Constitution, offensive to our notions of an egalitarian society and is unacceptable given the ideals we claim to espouse.
Be that as it may, Congress, our would-be defender, intends to amend the Constitution in order to protect our marriages and ultimately protect us from (gasp!) homosexuality.
A Senate subcommittee led by Sen. Sam Brownback, R-Kan., recently passed a measure aiming to ban same-sex marriage that may make the Senate floor next year. [Read article]

·
Dems: Don't get cocky
·
The joke's on us
·
Editorial: Rec Center vote was an election hijacking
·
Mailbag
Latest Issue: November 17, 2005
Latest Issue: November 15, 2005
Band Day brings out best in Southwest marching bands
With reality television all the rage, showdown competitions seem to be an everyday occurrence. There is the dance off, the sing off and the band off. OK, maybe you have never seen a band off, unless you will admit to actually watching "Drumline," but now you can.
The UA's Pride of Arizona marching band will be hosting its 52nd annual Glassman Foundation University of Arizona Band Day on Saturday, where high schools from all over the Southwest region come to "bring it" - marching band style. [Read article]





showAds('bigbutton')?>







showAds('mediumbutton')?>


Thursday
---
5:30 pm
UATV: Daily Dose
6 pm
UATV: Wildcast
6:30 pm
The DRSC
7 pm
Garden State
9 pm
Miracle on 34th Street
11 pm
One Fine Day

Show Schedule
Interview Archives

showAds('wildlinks')?>